The Best Copycat Chick-fil-A's Frosted Lemonade
Chick-fil-A's frosted lemonade is a sweet, refreshing summertime treat. With its perfectly balanced tart and sweet lemonade flavor topped with a frosty layer of ice, it's no wonder this drink is a favorite. But with no Chick-fil-A nearby, how can you get your frosted lemonade fix? You can clone this delicious beverage at home with this easy copycat recipe.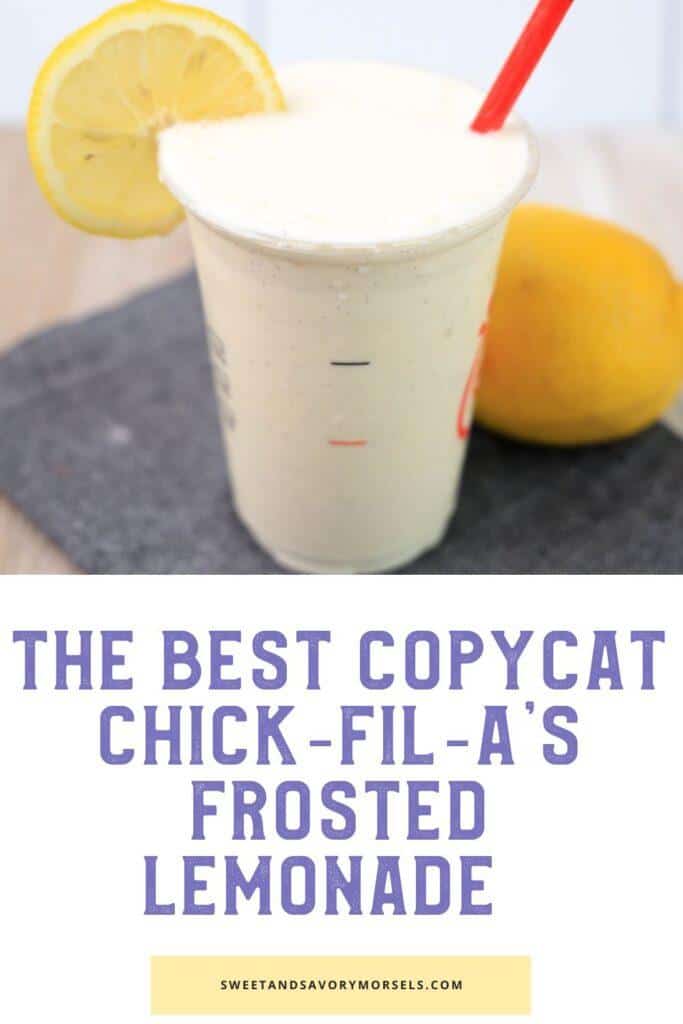 This homemade version of a classic restaurant beverage lets you channel your inner barista and experiment with unique flavor combinations.
Try infusing your simple syrup with fresh herbs, fruits, spices, or vanilla to put your spin on frosted lemonade.
Make it a bonding activity by blending pitchers to share when hosting backyard barbecues, birthday parties, or pool get-togethers with friends and family.
Frosted lemonade also makes for a fun, summery treat you can serve on hot days without special equipment – all you need is a blender.
So skip the drive-thru and enjoy this sweet sip of sunshine from your kitchen. With this easy recipe, you'll say "cheers!" to chilled-out, lemony bliss in every tasty glass.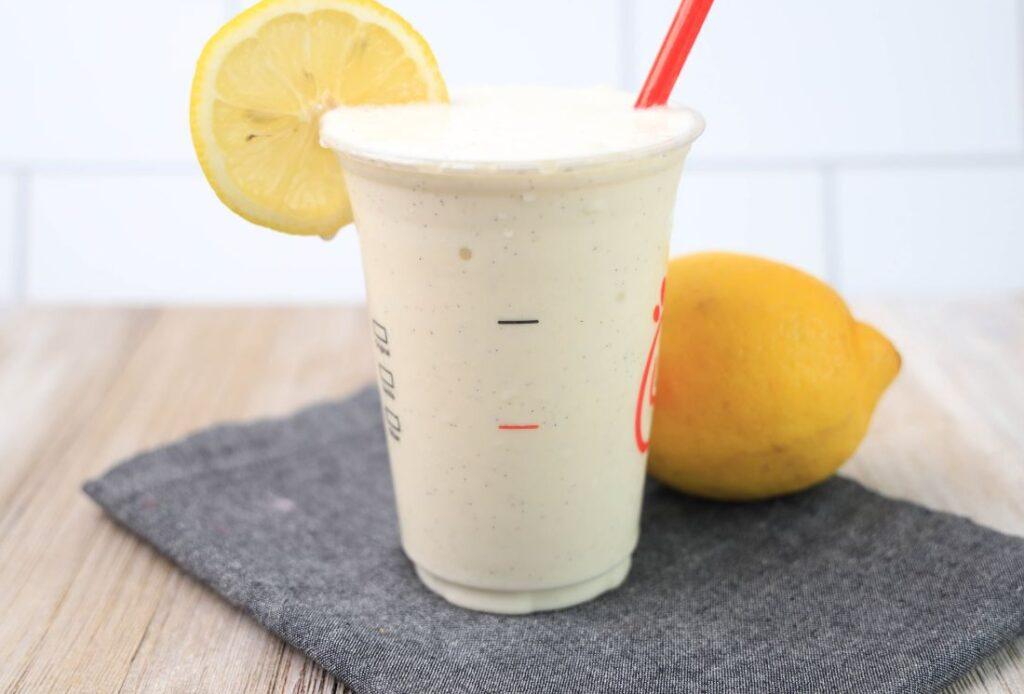 The full ingredient list and directions are in the printable recipe card below.
Disclosure: This blog post contains affiliate links for products we believe you'll love. So if you purchase from one of these links, Sweet and Savory Morsels may make a small commission at no additional cost to you. And remember, we only recommend items that we use and love.
What You'll Need to Make Frosted Lemonade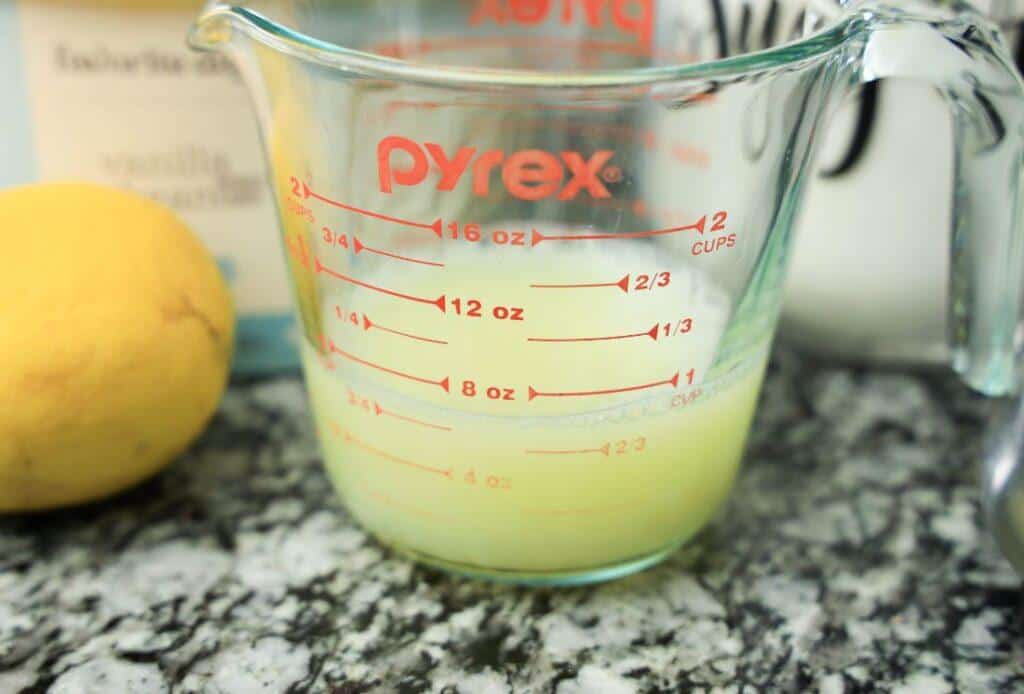 To make this copycat Chick-fil-A frosted lemonade, you'll need just a few simple ingredients:
Fresh lemons
Sugar or other sweetener
Ice
Milk or half-and-half
A blender
Step-by-Step Instructions for Making Frosted Lemonade
Making frosted lemonade is a breeze with these simple steps: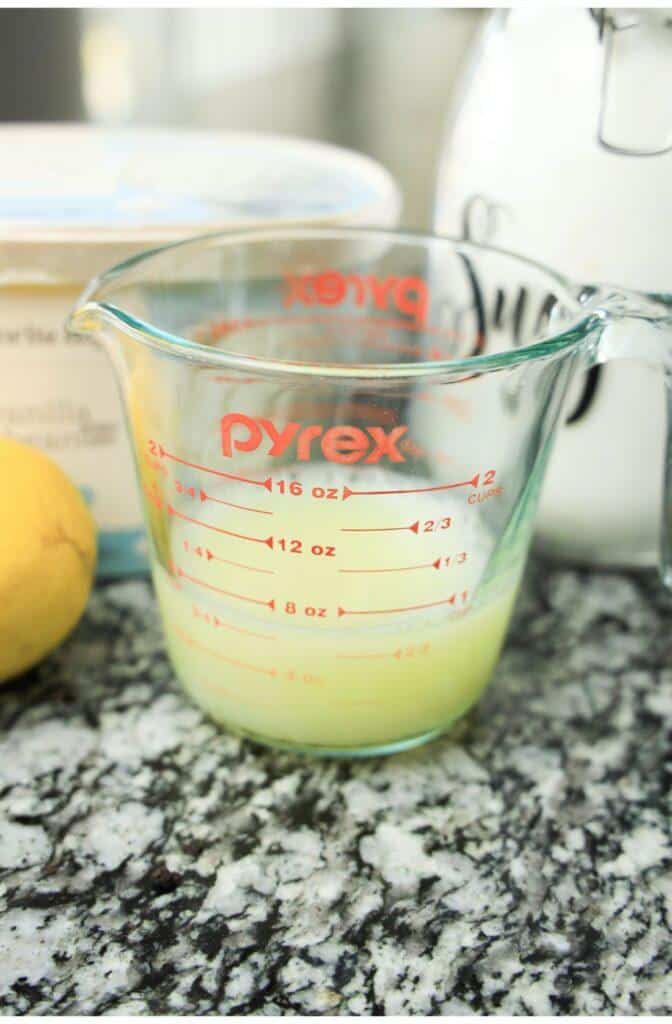 Make a pitcher of basic lemonade by combining fresh lemon juice, sugar, and water. Adjust sweetness to taste.
Fill a glass halfway with ice cubes.
Pour the chilled lemonade over the ice.
Add 1-2 tablespoons of milk or half-and-half and stir well.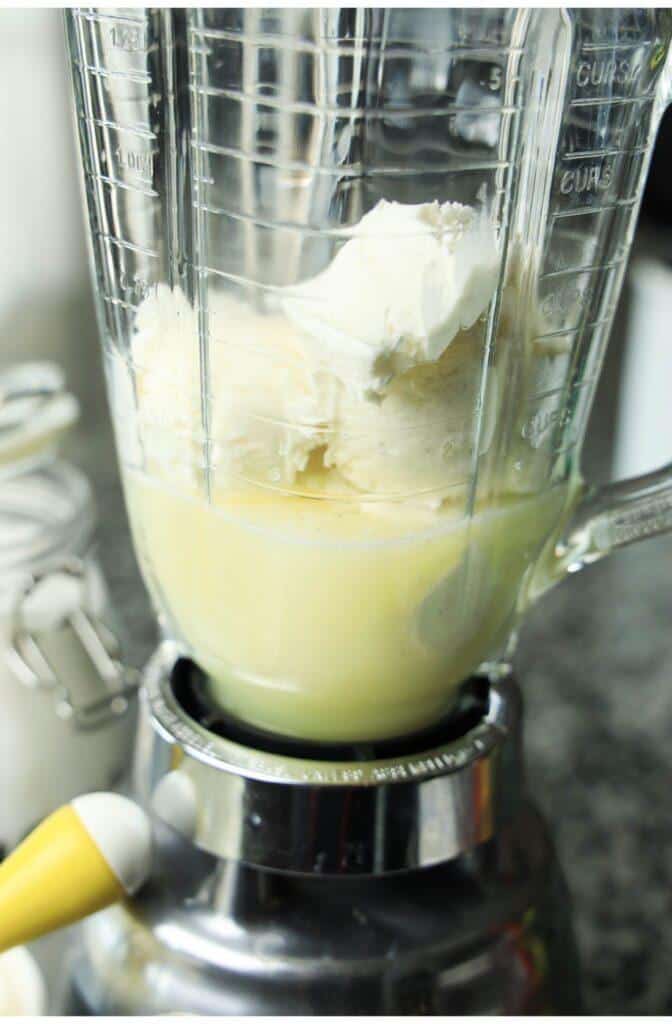 Pour the lemonade mixture into a blender and blend for 15-30 seconds until frothy.
Pour back into the glass and enjoy!
The milk gives the frosted lemonade its signature frothy top layer. Blending incorporates air into the drink, making it light and frosty.
Frequently Asked Questions
Here are answers to some common questions about making frosted lemonade at home:
What kind of lemons work best?
Regular yellow lemons are preferred for their tart juice. Meyer lemons are sweeter and won't provide the proper lemony flavor.
Can I use lemon juice instead of squeezing fresh lemons?
You can use bottled lemon juice, but freshly squeezed juice makes a big difference in taste. Go the extra mile and squeeze fresh lemons if possible.
What sweeteners can I use besides regular sugar?
White sugar helps balance the tartness, but you can also use simple syrup, agave nectar, or honey. Stevia is not recommended as it may provide a bitter aftertaste.
Does the milk need to be ice cold?
It's best to chill the milk or half-and-half overnight so it's very cold when making the frosted lemonade. This helps create a thick, frosty layer on top.
Can I use heavy cream instead of milk?
Heavy cream can be used, but it may create a topping that's too thick. Stick with milk or half-and-half for better consistency.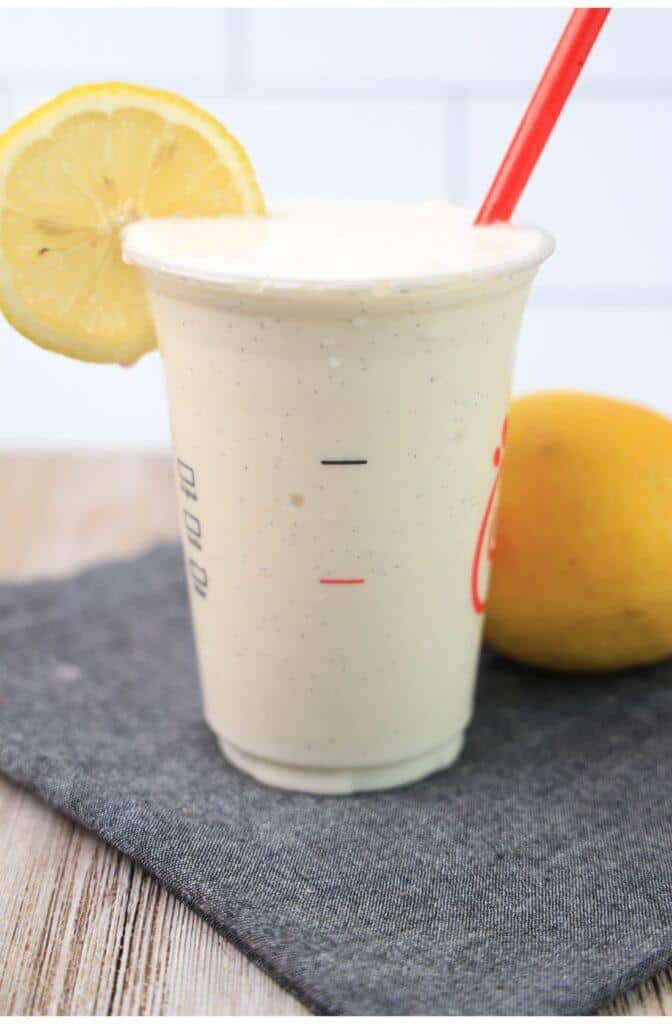 Here are some good ingredient substitutions you can use to make frosted lemonade:
For lemon juice:
Lime juice – Provides similar tart citrus flavor
White vinegar or apple cider vinegar – Not quite as tangy but works in a pinch
For sweetener:
Honey or agave nectar – Sweeter than sugar, so use less quantity.
Simple syrup – Equal parts sugar and water boiled together
Stevia or monk fruit (use sparingly) – Zero-calorie sweetener alternatives
For milk/half-and-half:
Skim or low-fat milk – Less creamy but still provides thickness
Full-fat coconut milk – For a dairy-free option
Sweetened condensed milk – Adds extra sweetness, so reduce other sweeteners.
For ice:
For garnishes:
Whipped cream – Light, sweet topping
Fresh berries – Provides color and extra flavor
Mint leaves or basil – Unique herbal twist
The key is sticking to similar ratios of tart citrus, sweetener, dairy/cream, and ice as the original. But you can customize it with the ingredients you have on hand!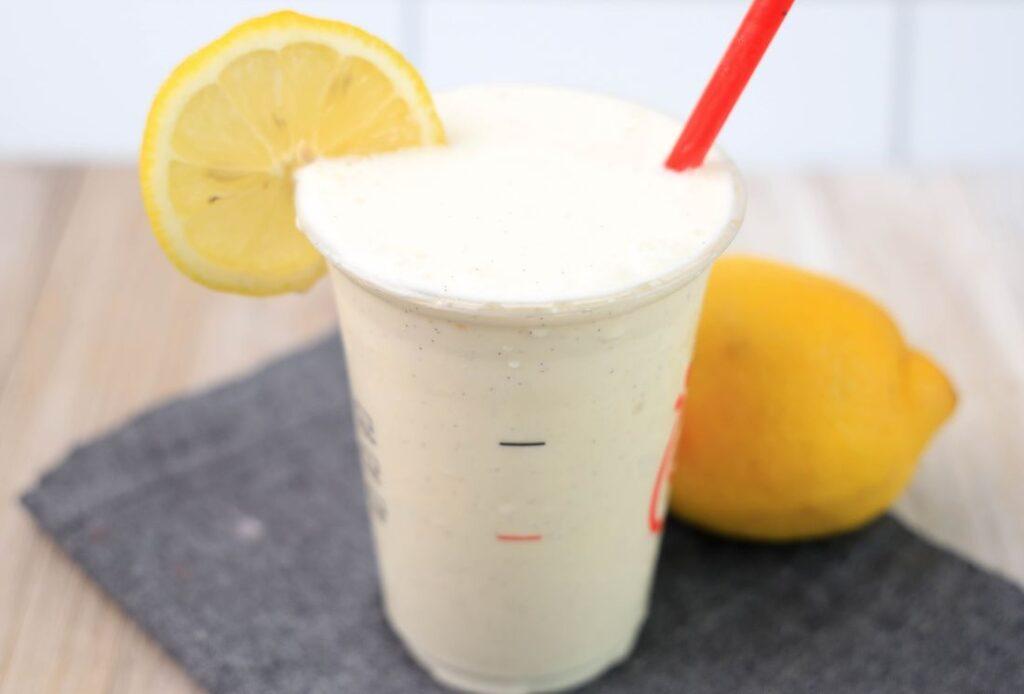 There are several reasons why Chick-fil-A's frosted lemonade is so popular
Refreshing flavor – The combination of tart, sweet lemonade with a frosty creamy texture is incredibly refreshing on a hot day. The cold drink hits the spot.
Nostalgia – For those who grew up going to Chick-fil-A, frosted lemonade may remind them of happy childhood memories and eating out as a treat. The familiar flavor brings nostalgia.
Versatile taste – Frosted lemonade appeals to both kids and adults. It's sweet and tangy, making it a crowd-pleaser. People who don't like soda will enjoy it.
Low calorie – Compared to milkshakes and other frozen/blended drinks, frosted lemonade is relatively low in calories and fat, making it seem like a guilt-free indulgence.
Unique texture – The frozen, frothy texture makes frosted lemonade fun to drink. It's different from regular lemonade or smoothies.
Signature item – Having a signature drink like frosted lemonade builds brand loyalty. People come back to Chick-fil-A specifically for that one-of-a-kind beverage experience.
Caffeine-free – Unlike coffee drinks or tea, frosted lemonade offers a non-caffeinated cold beverage choice. Kids can enjoy it any time.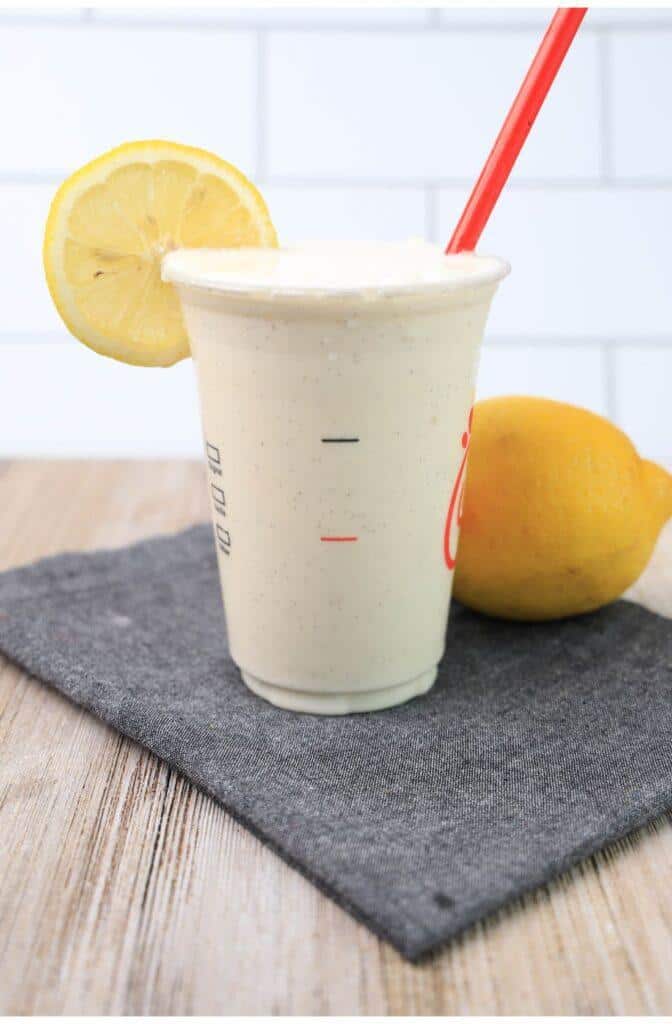 Here are some tasty food options that pair well with homemade frosted lemonade:
Chicken sandwiches or nuggets – Frosted lemonade perfectly complements Chick-fil-A-style chicken. The lemony sweetness balances the savory chicken flavors.
French fries or waffle fries – What's a meal without fries? The salty crunch of fries contrasts nicely with the sweet, icy lemonade.
Fruit salad – Fresh fruit like berries, melon, and pineapple make a light and healthy side. The sweet-tart lemonade brings out the natural fruit flavors.
Cookies – Bakery-style or homemade cookies are an ideal treat with frosted lemonade. The cookie crumbles add great texture to balance the drink's smoothness.
Summer salads – Leafy greens, veggies, chicken, or shrimp salad are refreshing alongside frosted lemonade. The tangy citrus flavor complements lighter fare.
Grilled veggies – Grilled zucchini, corn, peppers, or eggplant paired with lemonade offer a nice mix of smoky and tart.
Fried fair foods – At festivals or fairs, lemonade balances greasy foods like funnel cakes, elephant ears, or fried Oreos!
Cheesecake or pie – Finish your savory foods with a slice of lemon cheesecake or lemon meringue pie à la mode for a sweet citrus finale.
The possibilities are endless! Anything from backyard barbecues to beachside bonfires is the perfect occasion for this sweet homemade beverage.
The Best Copycat Chick-fil-A's Frosted Lemonade Recipe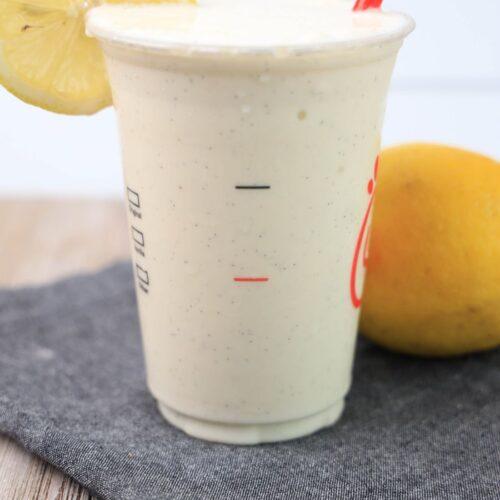 The Best Copycat Chick-fil-A's Frosted Lemonade Recipe
Chick-fil-A's frosted lemonade is a sweet, refreshing summertime treat. With its perfectly balanced tart and sweet lemonade flavor topped with a frosty layer of ice, it's no wonder this drink is a favorite. But with no Chick-fil-A nearby, how can you get your frosted lemonade fix? You can clone this delicious beverage at home with this easy copycat recipe.
Print
Pin
Ingredients
6

small scoops vanilla ice cream

1

cup

lemon juice

2

tablespoons

sugar
Instructions
In a measuring glass, mix together lemon juice and sugar.

Pour into a blender with six scoops vanilla ice cream. Blend well.

Pour into a cup. Serve!
Nutrition
Serving:
1
g
|
Calories:
689
kcal
|
Carbohydrates:
89.1
g
|
Protein:
8
g
|
Fat:
32
g
|
Saturated Fat:
23
g
|
Cholesterol:
120
mg
|
Sodium:
229
mg
|
Potassium:
303
mg
|
Fiber:
1
g
|
Sugar:
77
g
|
Calcium:
17
mg
I hope this post has provided everything you need to master an easy copycat version of Chick-fil-A's iconic frosted lemonade in your kitchen!
With a simple homemade lemonade base blended with cold milk and ice, you can re-create this sweet, tangy summertime treat and enjoy it anytime.
From the step-by-step recipe to troubleshooting tips and serving suggestions, you're now equipped with all the secrets to making this refreshing beverage at home.
So get out your blender, and let the lemony goodness begin!
Whether enjoyed alone or with savory or sweet accompaniments, this drink will surely transport your tastebuds with that signature Chick-fil-A frosted lemonade flavor and frosty texture.