DELIGHTFUL TURKEY MINI DONUTS
As autumn breezes in with the exciting festivities ahead, what could be more delightful than indulging in a sweet treat that embodies the season? Introducing Turkey Mini Donuts: the ideal dessert to elevate your Thanksgiving celebration, pleasing both your aesthetic and culinary senses!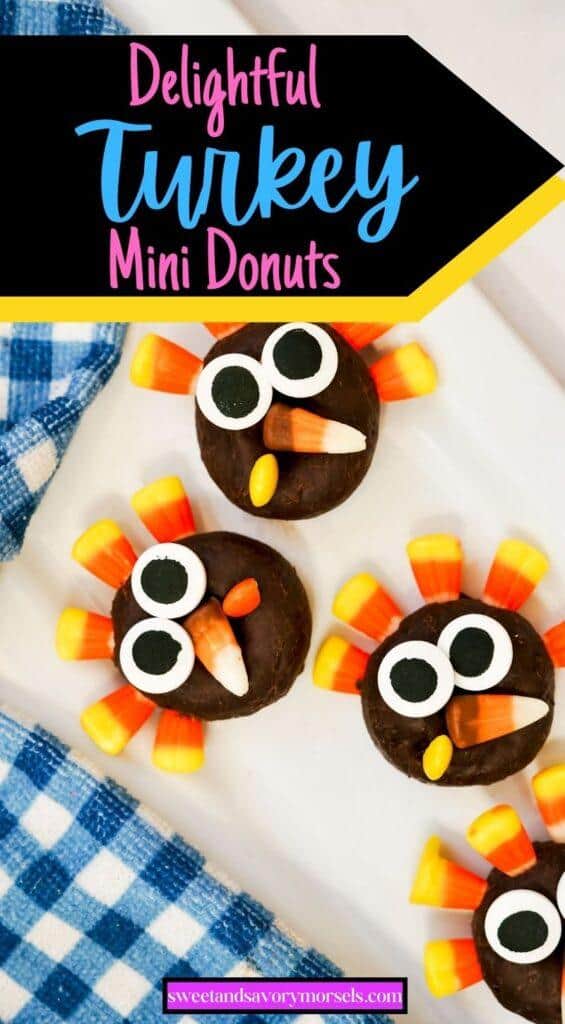 Turkey Mini Donuts are the charming, bite-sized delights that combine the beloved, traditional flavors of Thanksgiving with the whimsical fun of donuts.
Not only are they delicious, but their visual appeal makes them an excellent centerpiece for your festive spread.
Why You'll Love These Turkey Mini Donuts
Festively Fun Design
Turkey Mini Donuts are designed to resemble adorable little turkeys, making them not only a treat for the palate but also a feast for the eyes. These are sure to be the talk of the table, delighting both kids and adults with their playful appearance.
Easy to Make
With a straightforward recipe, these Turkey Mini Donuts are easy to whip up. Whether you're a seasoned baker or a novice in the kitchen, you'll find joy in crafting these cute and tasty treats without any hassle.
Customizable
One of the best aspects of this recipe is its versatility. You can use store-bought donuts or make your own and pick various candies for decorating. This allows you to easily cater to different taste preferences and dietary restrictions.
Perfectly Portable
These mini donuts are the ideal grab-and-go dessert for guests who are mingling or kids who are playing. Their size makes them easy to handle and eat without needing utensils or plates, though napkins are recommended!
Ideal for Various Occasions
While these donuts are perfect for Thanksgiving, they're also great for other fall celebrations and gatherings. You can make them for school parties, office potlucks, or even as a fun weekend project with your family.
Instagram-Worthy
Let's admit it; we love sharing our culinary creations on social media. These Turkey Mini Donuts are irresistibly photogenic, making them a sure hit on Instagram. Get ready to have your notifications flooded with likes and comments!
What You'll Need to Make Mini Turkey Donuts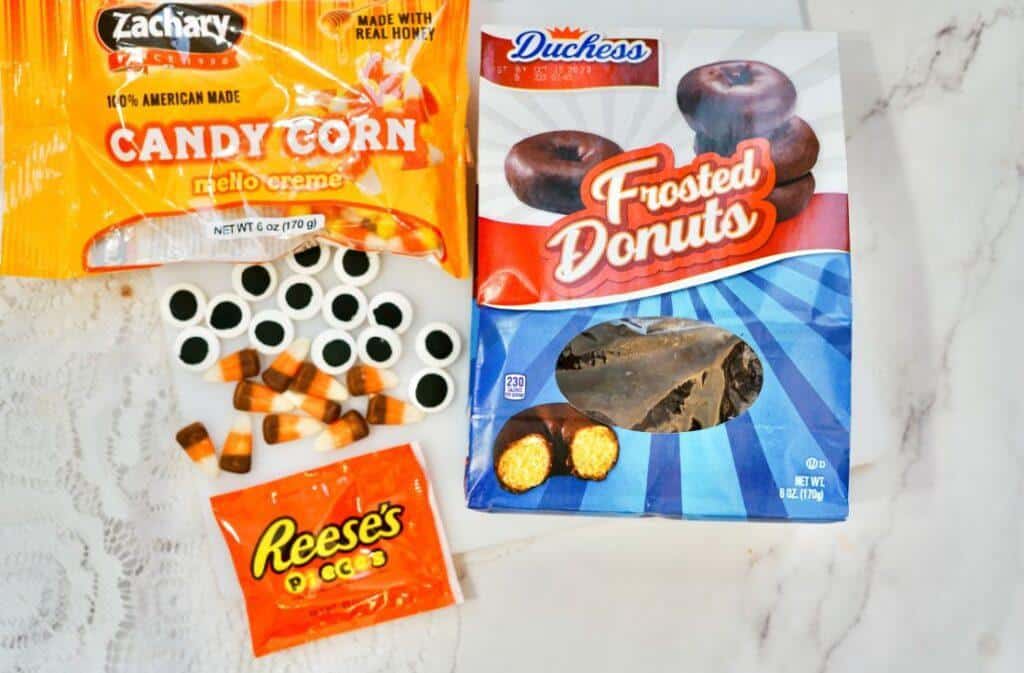 Step-by-Step Instructions for Making Turkey Mini Donuts
Making Turkey Mini Donuts is simple with these simple steps.
Place Mini Chocolate Donuts on a platter.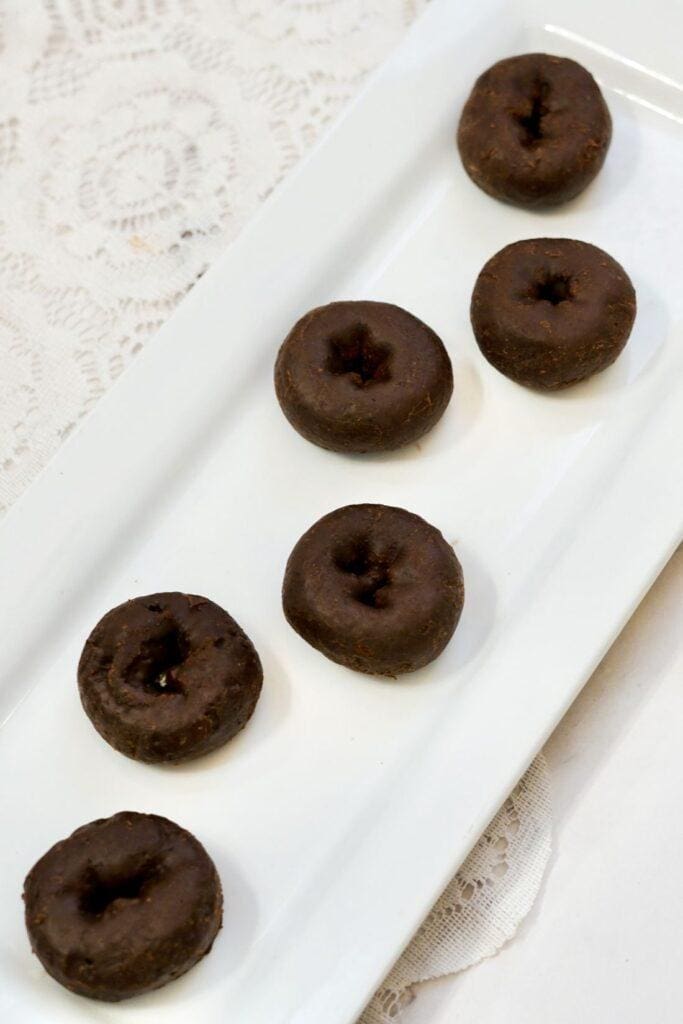 Create Turkey feathers by sticking candy corn into the mini donuts.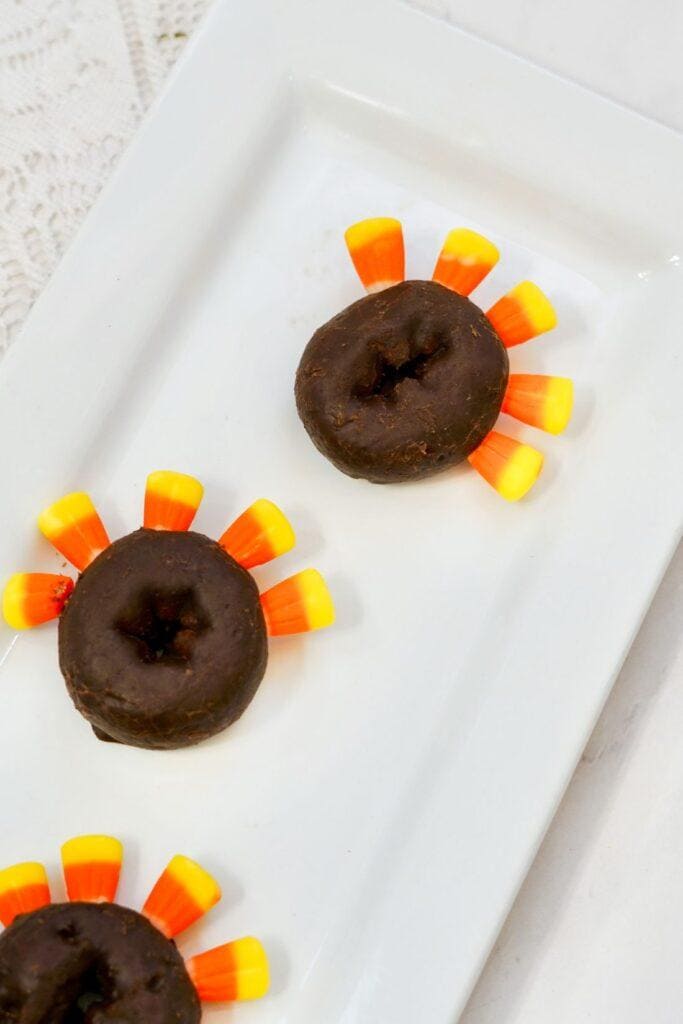 Stick on two candy eyes.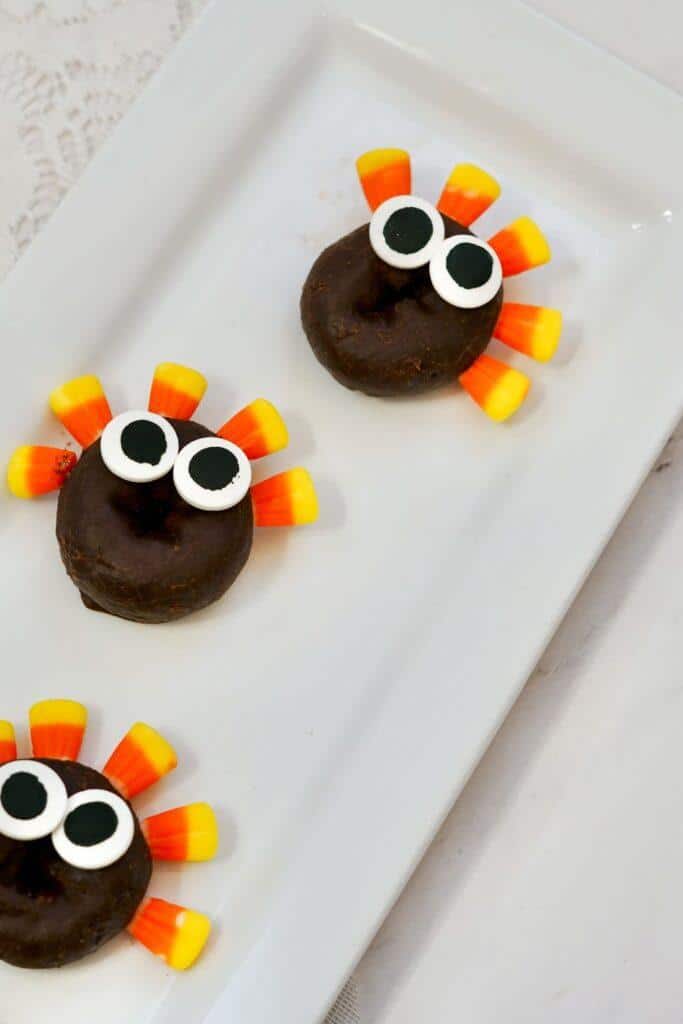 Create a beak by cutting a Reese's pieces in half and using one candy corn.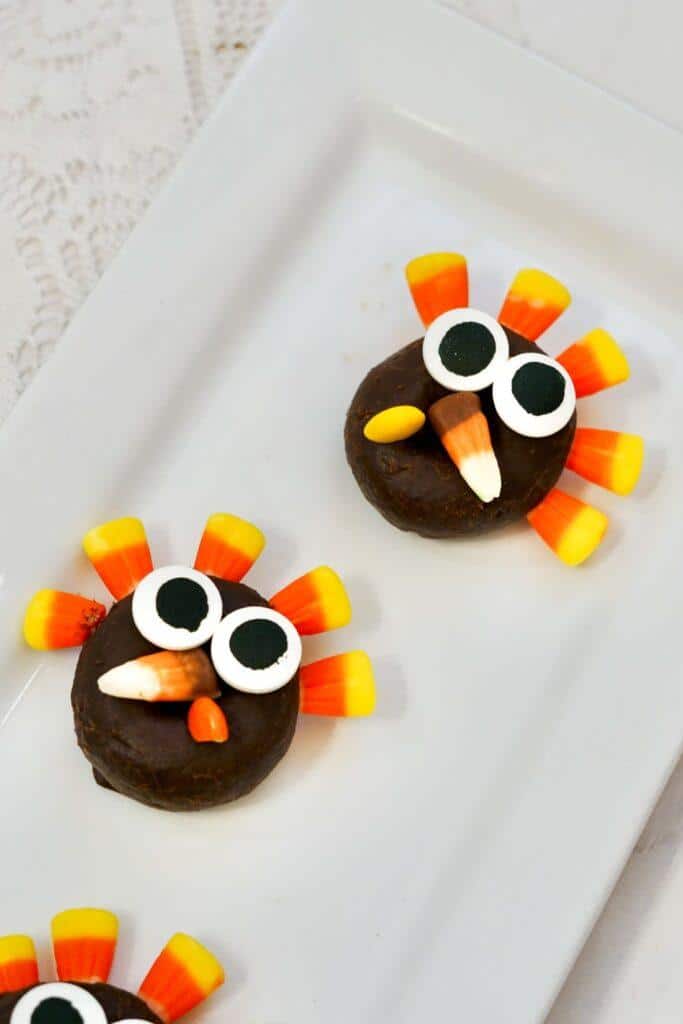 What to Serve with Your Turkey Mini Donuts
Turkey Mini Donuts are whimsical, festive, and delightfully sweet. To craft the perfect Thanksgiving dessert table or treat spread, you should pair these mini delicacies with sides, desserts, and drinks that complement and balance their sweet, rich flavors.
Sides
Pair your delightful Turkey Mini Donuts with sides that complement their sweetness while offering a delightful contrast in flavors and textures. Consider a refreshing fruit salad that combines the crispness and tang of autumn fruits like apples and pears with the juicy burst of grapes, offering a light counterpoint to the dense, sweet mini donuts.
You can also provide a bowl of lightly sweetened whipped cream, allowing guests to add a dollop of creaminess to their donuts as they desire.
Desserts
Consider offering desserts that enhance the festive atmosphere with complementary and contrasting flavors. Pumpkin pie is an iconic and beloved Thanksgiving treat, with its creamy, spiced filling and flaky crust echoing the sweet, spiced flavor profile of the mini donuts.
Additionally, the rich, sticky sweetness of a traditional pecan pie, adorned with its crunchy, nutty topping, can be a decadent companion to the Turkey Mini Donuts, resulting in a dessert spread that's irresistibly varied and satisfying for all your guests.
Drinks
When it comes to selecting drinks to accompany your delightful Turkey Mini Donuts, think about beverages that harmonize with the sweet, festive flavors while providing a refreshing contrast. Apple cider is a fantastic choice, serving as a delightful companion with its balanced sweetness and acidity, whether served hot or cold.
For those who prefer a warm, comforting drink, coffee offers a rich and slightly bitter element that contrasts beautifully with the sweet, spiced notes of the donuts. A classic option is a cold glass of milk, providing a cool, creamy counterpoint to the rich and sweet donuts.
Frequently Asked Questions (FAQ's) for Mini Turkey Donuts
Can I Make Turkey Mini Donuts Ahead of Time?
Absolutely! You can make Turkey Mini Donuts a day ahead. However, to maintain freshness, store them in an airtight container at room temperature. If you're making them more than a day in advance, consider waiting to decorate them until closer to serving time to prevent the decorations from becoming stale or soggy.
Can I Use Store Bought Donuts For This Recipe?
Yes, store-bought mini donuts can be used as the base for this recipe. Plain, glazed, or pumpkin-flavored donuts all work well. Ensure they are fresh for the best results.
Are There Alternatives to Candy Corn For the Feathers?
Of course! If candy corn isn't available or isn't your favorite, you can use other candies. Consider colorful jelly beans, M&M's, or other similar-sized candies that can mimic the appearance of feathers.
Can I Use a Different Type of Donut?
Yes! Mini crullers, old-fashioned donuts, or even donut holes can be used. Adjust the quantity and arrangement of decorations based on the size and shape of the donut you select.
How Should I Store Leftovers?
Store any leftover Turkey Mini Donuts in an airtight container. Place them in a cool, dry place if they're to be consumed within a day. For longer storage, consider refrigerating them, but be aware that this might affect their texture.
Can These Be Made Gluten-Free or Vegan?
Absolutely. Start with a gluten-free or vegan mini donut base, use appropriate chocolates and candies that adhere to your dietary restrictions. There are many recipes available online for gluten-free and vegan donuts, and many stores carry gluten-free and vegan candies and chocolates.
Can Kids Help in Making Turkey Mini Donuts?
Making Turkey Mini Donuts is a fun and engaging activity for kids! They can easily help with making the mini turkeys and adding the decorations.
Other Recipes You'll Love
Here are some fun Fall recipes to enjoy with your Turkey Mini Donuts!
These recipes embody the comforting and indulgent flavors associated with the holiday season. Each one is perfect for sharing with loved ones during festive gatherings or enjoying with a cup of your favorite hot beverage on a chilly day. Happy baking!
If you get a chance to try it, let us know! Leave us a comment below, or share it with a picture on Instagram or Facebook! Don't forget to tag us @sweetandsavorymorsels and use the hashtag #sweetandsavorymorsels so we can see what amazing meals you are cooking!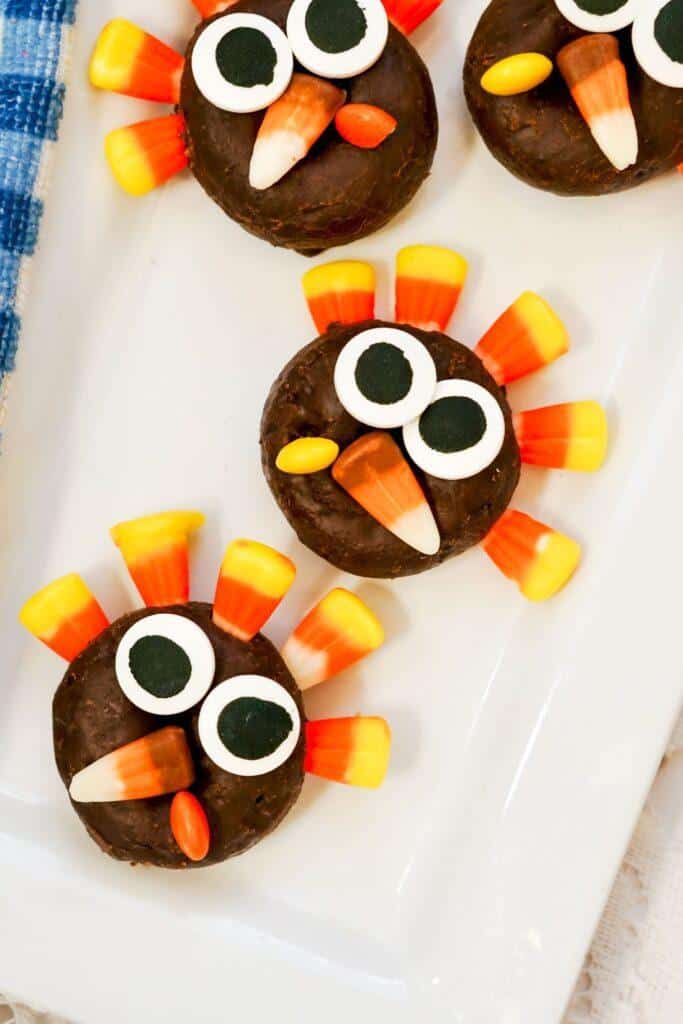 The full ingredient list and directions are in the printable recipe card below.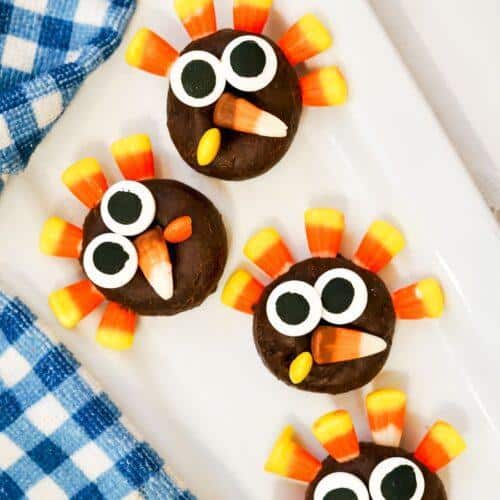 GOBBLE UP DELIGHT: DISCOVER TURKEY MINI DONUTS
Embrace the Thanksgiving season with our delightful Mini Chocolate Turkey Donuts! These whimsical treats are a feast for the eyes and palate, combining the irresistible sweetness of chocolate and the playful aesthetics of turkey decorations.
Print
Pin
Ingredients
Mini Chocolate Donuts

2

Candy Eyes Per Donut

Candy Corn

Reese's Pieces
Instructions
Add Mini Chocolate Donuts on a platter.

Create Turkey feathers by sticking candy corn into the mini donuts.

Stick on two candy eyes.

Create a beak by cutting a Reese's pieces in half and using one candy corn.