36 Best Halloween Charcuterie Board Ideas
Gather round, ghouls and boils, for the spookiest time of the year is upon us! Halloween is the perfect occasion to unearth your creativity in the kitchen and concoct ghoulishly delightful treats for your friends and family. And what better way to showcase a smorgasbord of spooky delights than through these Halloween Charcuterie Board ideas?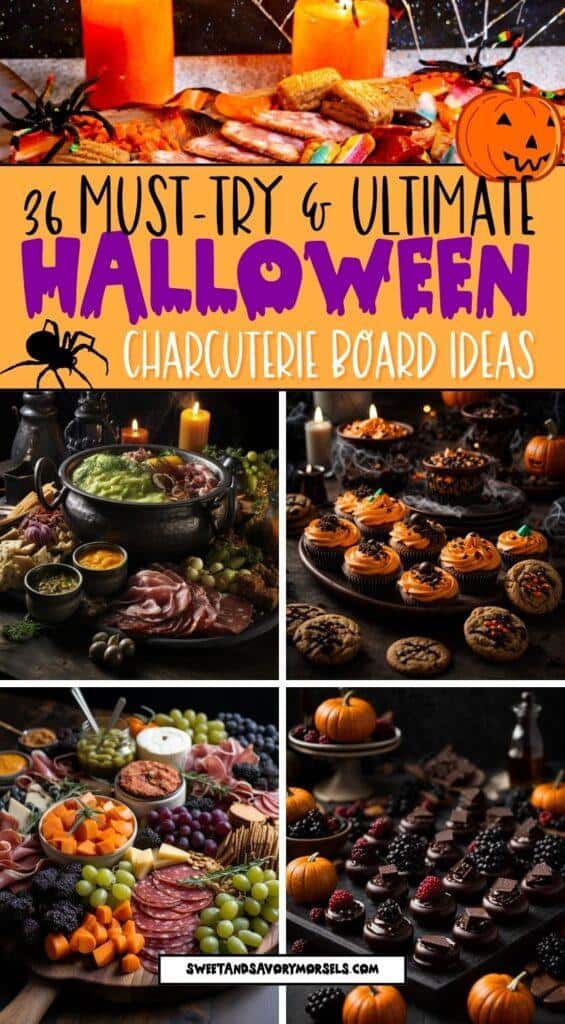 The idea is not just to feed your guests but to thrill them with a visual and gastronomic feast.
Here are 36 bewitching ideas to help you craft the perfect Halloween charcuterie board that's as much a feast for the eyes as it is for the palate!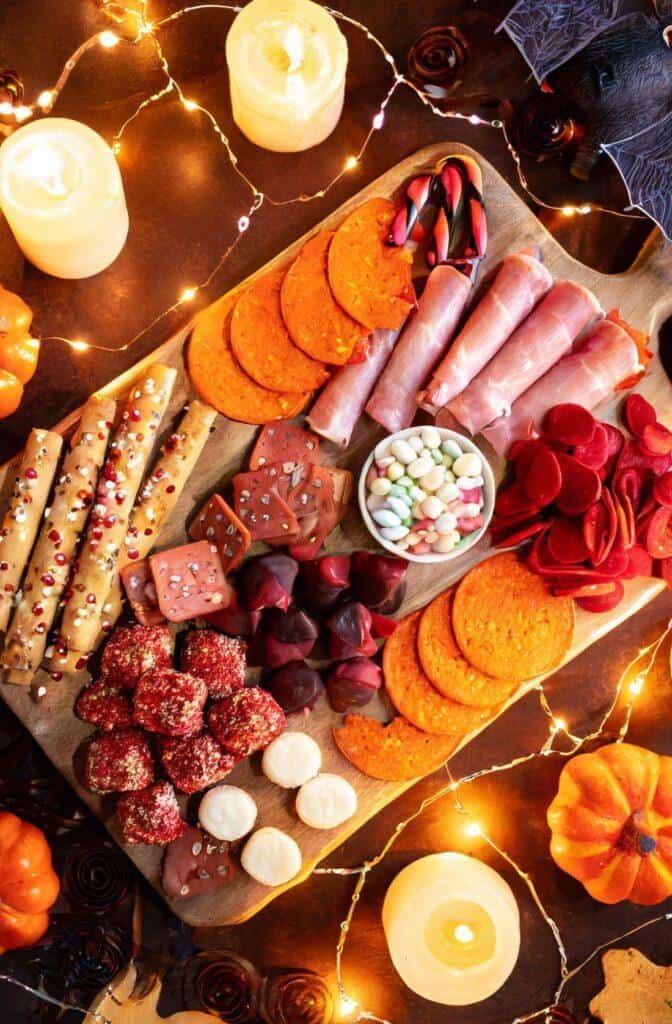 Halloween Charcuterie Board Ideas
Start with a Spooky Base:
Your Halloween snack board begins with a base. Consider using a large cutting board or a charcuterie platter with a dark color to set the spooky vibe.
Variety is the Key:
A great charcuterie board thrives on different textures and flavors. An assortment of cheeses, from hard cheeses like cheddar to creamy cheese like brie and blue cheese, will add a good variety. Don't forget some semi-soft cheeses too!
Meat the Ghosts:
Traditional meat products like salami, prosciutto, and other cured meats are great options to add a carnivorous touch to your Halloween-themed charcuterie board.
Bread & Crackers Crypt:
Offer a variety of bread and crackers. Small bowls of fig jam or other spreads can be a great addition to complement the flavors.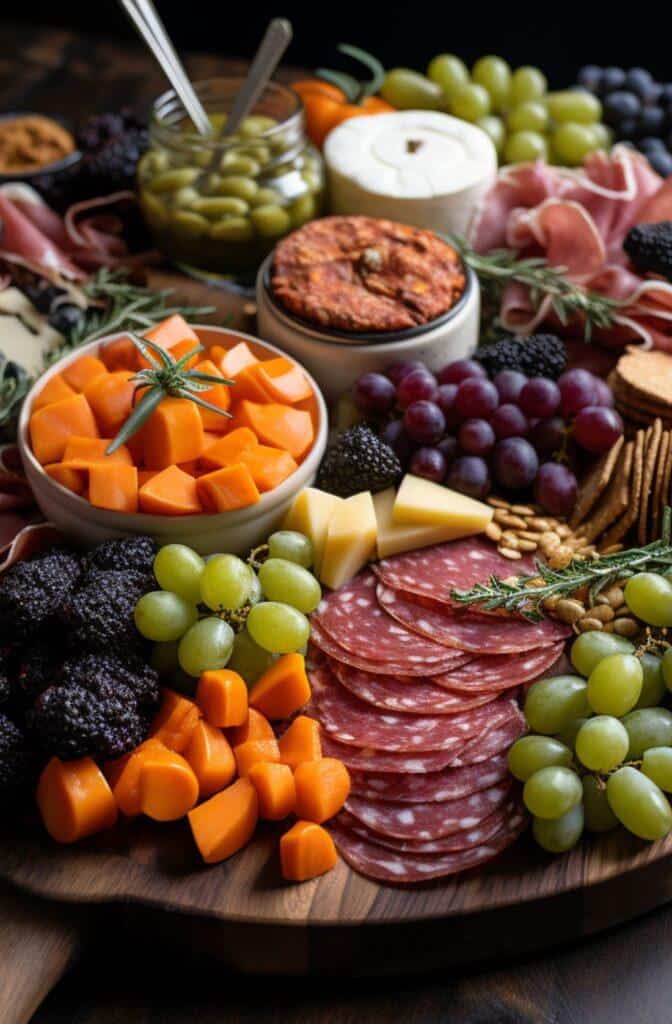 Fruit & Nut Tombstones:
Fresh fruit like black grapes and slices of apple alongside a variety of nuts provide a sweet and crunchy contrast to the meats and cheeses.
Vegetable Vampires:
Don't shy away from veggies. They can be a great way to add color and health to your Halloween board.
Cheese it Up:
A Halloween cheese board is incomplete without a cheese knife to aid in serving.
Candy Corn Cobwebs:
Candy corn and gummy worms can fill in the empty spots and add a sweet twist to your spooky charcuterie board.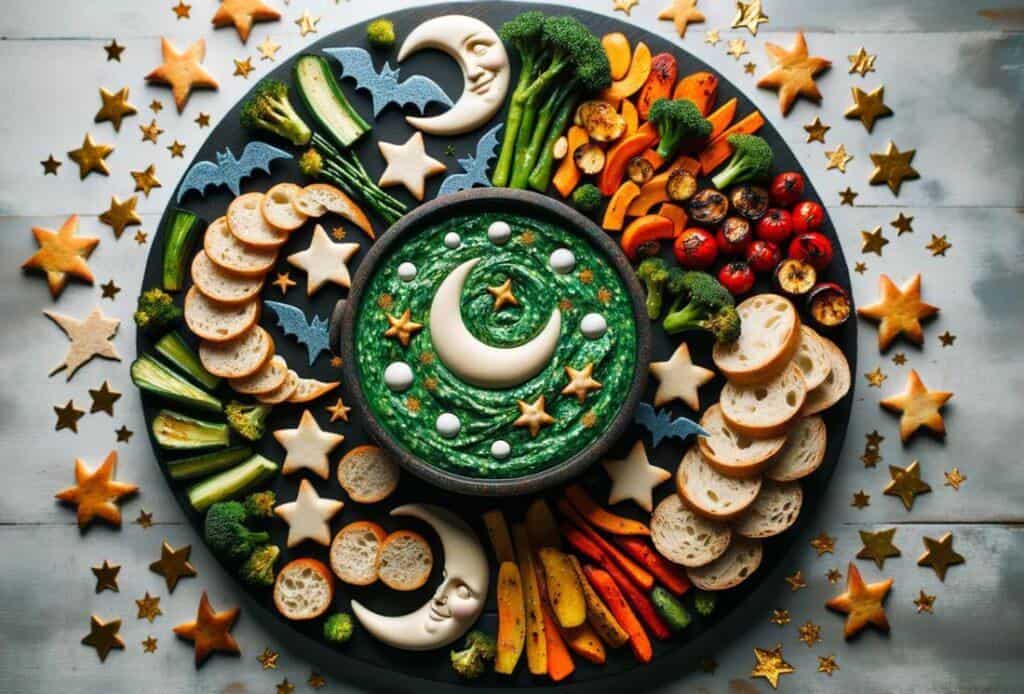 Candy Eyeball Cauldron:
Scatter candy eyeballs across the board for an eerie yet fun touch.
Ghostly Goat Cheese:
A log of goat cheese can be easily shaped into a ghostly figure or a spooky pumpkin to become the centerpiece of your Halloween charcuterie board ideas.
Mini Pumpkins & Gourds:
These are great options to add a festive Halloween touch to the board without much effort.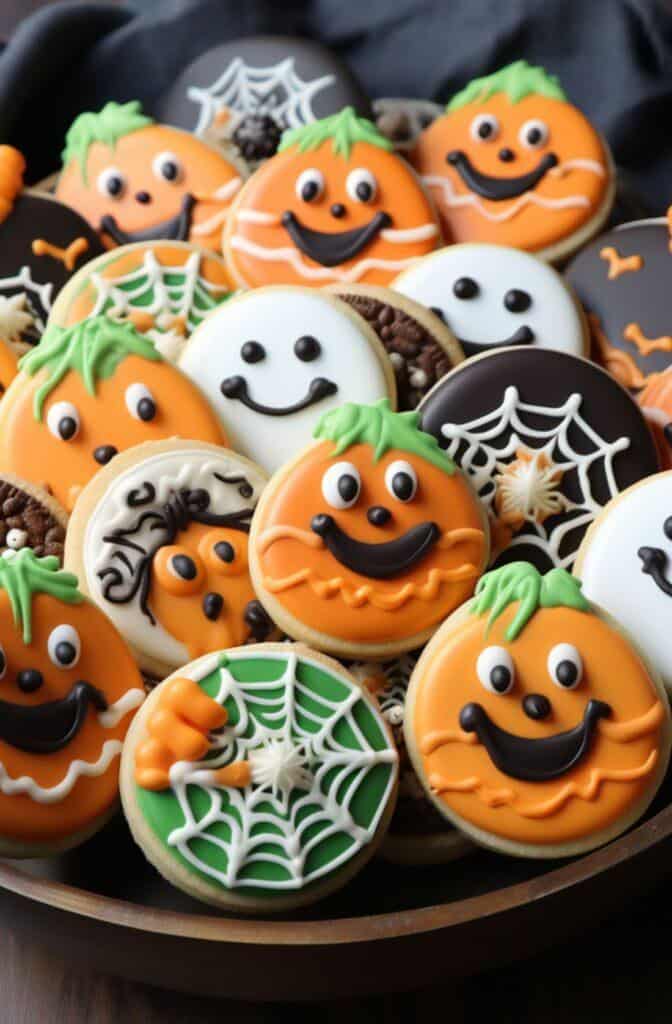 Cookie Cutter Creations:
Use small cookie cutters to shape cheeses and meats into Halloween-themed figures like bats, ghosts, and pumpkins.
Spooky Spreads:
Small bowls of different spreads can also add a spooky twist when paired with skeleton hand-serving utensils.
Perfect Pairings:
Pairing the right wine or brew can elevate your charcuterie board from mere food to an unforgettable Halloween experience.
Room Temperature Rules:
Allow your cheeses and meats to come to room temperature before serving. It enhances the flavors immensely.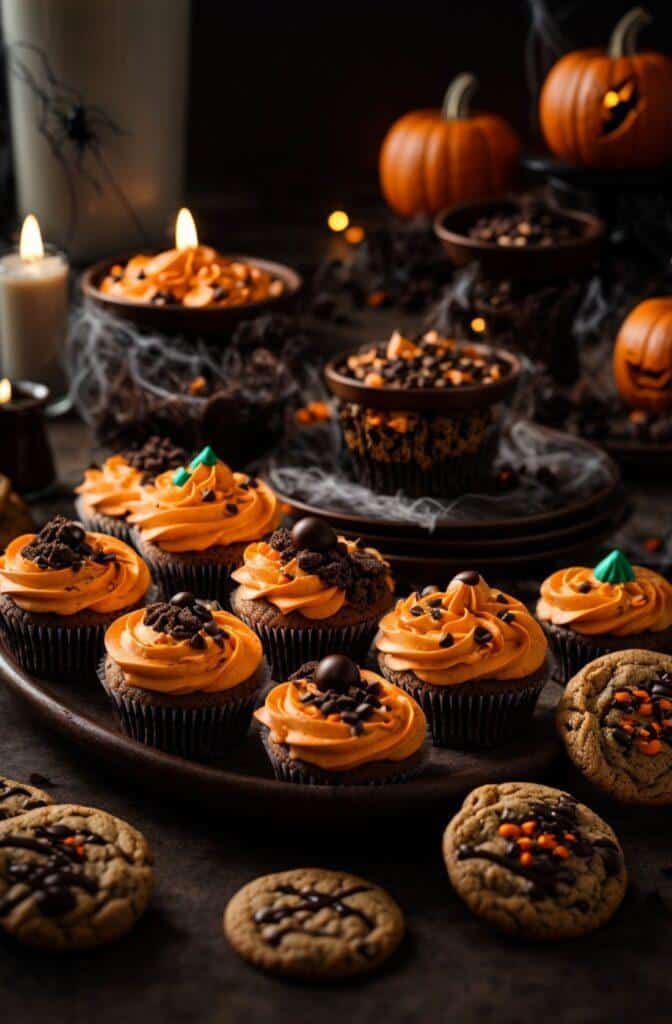 Spooky Season Snacks:
Halloween cookies, cupcakes, and other spooky season snacks can find a place on your board to up the ghoulish treat factor.
Plastic Spiders and Webs:
Scatter plastic spiders and spider webs across your board for a spooky, crawly effect.
Fresh from the Local Haunt:
Source fresh, local ingredients from your local grocery store. It's a perfect way to support local producers and ensure your board is fresh and tasty.
Traditional with a Twist:
Consider a traditional charcuterie board and then add Halloween-themed items for a spooky twist.
Label the Unknown:
Use small labels to identify different items on your charcuterie platter. It's a fun way and helpful way for guests to know what they're about to devour.
Sweet Treat Retreat:
Dedicate a section of your board to sweet treats like caramel apples and white chocolate ghosts.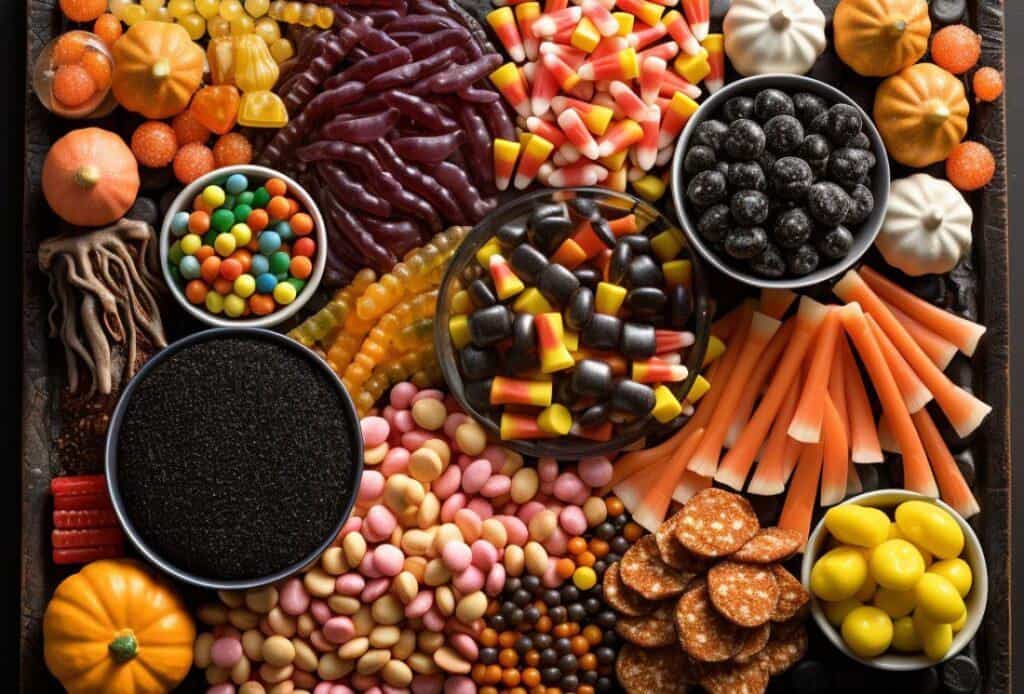 Halloween Candy Board:
Turn a section of your board into a Halloween candy board filled with classic Halloween candies.
Unearth New Ideas:
Don't be afraid to try new things. Each year, you can experiment with different Halloween charcuterie board ideas to keep things exciting.
Guest List Ghost List:
Tailor your board according to your guest list. If kids are attending, include more fun items and sweet treats.
Moonlit Miniature Creations:
Mini pumpkins, ghoulishly garnished goat cheese, and tiny tombstone-shaped crackers can transform your board into a miniature haunted village. The devil, as they say, is in the details!
Cauldron of Colors:
A burst of colors can make your Halloween charcuterie board visually enthralling. Think green olives, red pepperoni, and dark purple grapes contrasting against the creamy whites and yellows of different cheeses.
Ghastly Garnishes:
Garnish your board with some ghostly delights like plastic spiders crawling over a mound of blue cheese or a skeleton hand reaching out from a pile of crackers. These spooky decorations bring your Halloween theme to life, making the entire board a part of the haunted narrative.
Construct creepy castles or haunted houses using crackers and cheese. With a dash of creativity, your Halloween snack board can turn into a spooky scenery.
Bewitching Beverage Pairings:
Offer a selection of bewitching brews or ghostly grogs to accompany your charcuterie selections. The right beverage can elevate the spooky spirit of your gathering.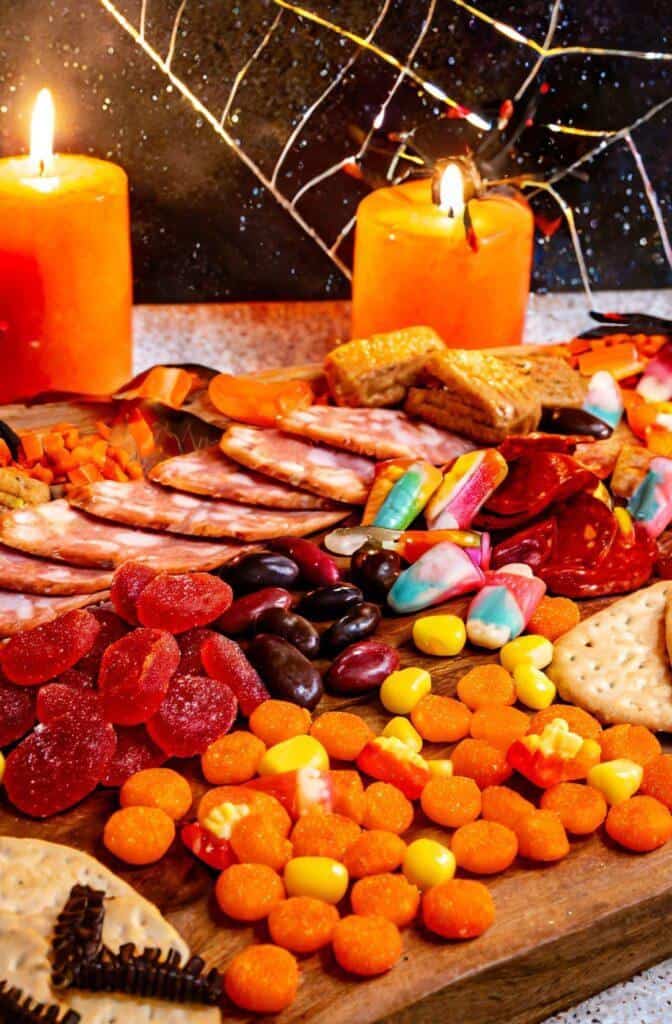 Cursed Candy Compartments:
Candy corn, gummy worms, and candy pumpkins can be tucked in small bowls or scattered around the board, offering sweet retreats amidst the savory.
Macabre Meat Arrangements:
Arrange your meat products in eerie shapes or patterns. Perhaps a salami can be rolled up to resemble a bat, or prosciutto can be draped like a ghostly veil.
Graveyard of Greenery:
Fresh herbs can act as a graveyard greenery, lending a rustic charm and a burst of freshness to your board.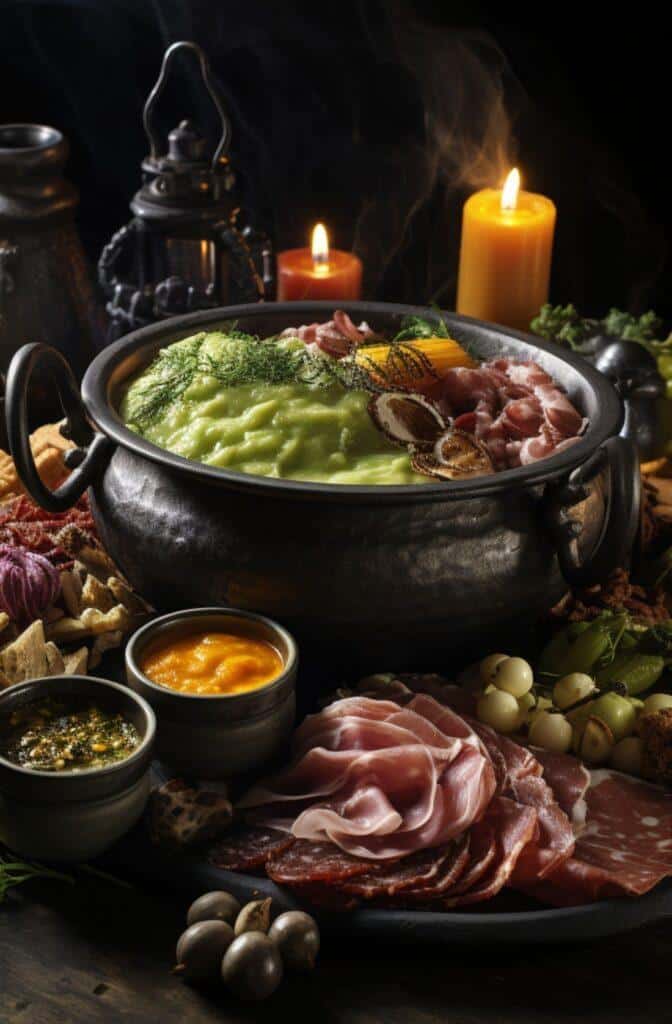 The Witch's Brew:
A cauldron (small bowl) filled with a dip or a spread can act as the witch's brew, ready to enchant the taste buds of your guests.
The Phantom of the Feast:
Let a specter of creamy cheese or a ghostly-shaped goat cheese reign as the phantom of your feast, becoming the talk of your ghastly gathering.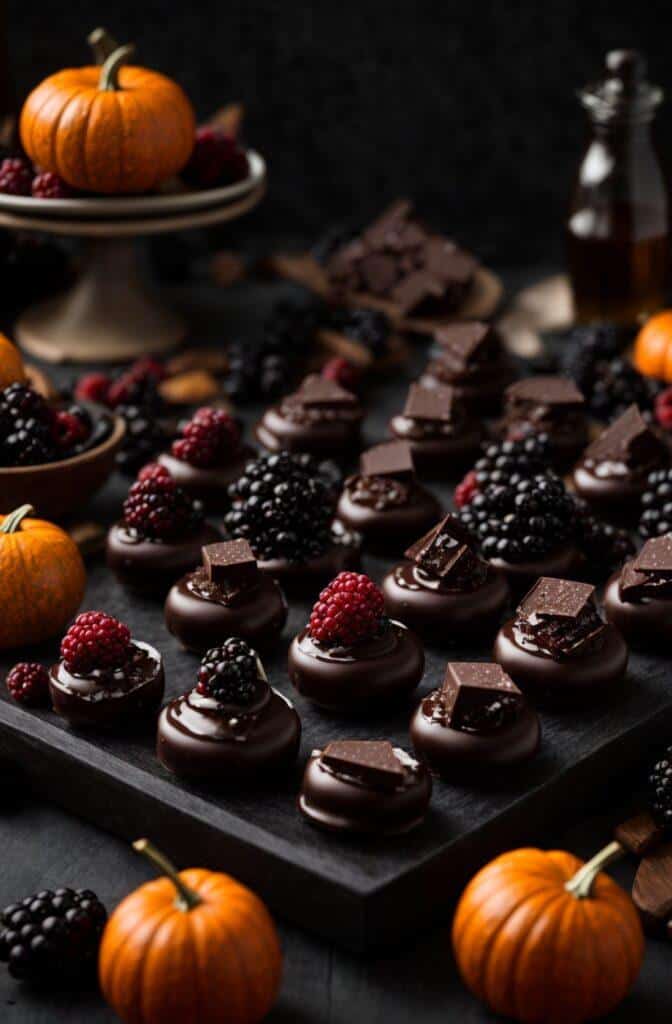 Dark Delicacies:
Dark chocolates or dark-colored fruits like blackberries can add a gothic touch to your Halloween charcuterie board ideas.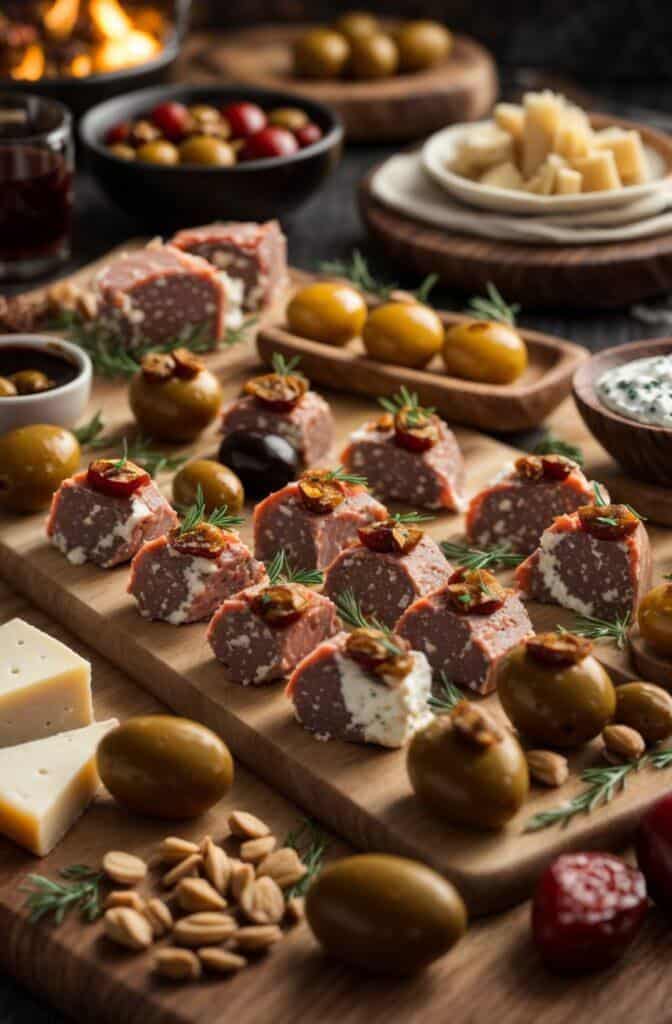 Gory Gourmet Bites:
Elevate your board with some gourmet bites. Think of items like stuffed olives, artisanal cheeses, and high-quality meats that can add a gory yet gourmet touch.
Spine-Chilling Sweet Spots:
Designate sweet spots on your board where the sweet treats lie, awaiting to surprise the palate amidst the savory storm.
The Charcuterie Chills:
Lastly, remember, the essence of a great Halloween charcuterie board is the shiver of delight it sends down the spine, the eerie excitement it evokes, and the devilish delight it dishes out.
Halloween charcuterie board begins with choosing a bewitching base to display your ghostly goodies.
Here are five spellbinding suggestions that would add that eerie elegance to your spooky soirée: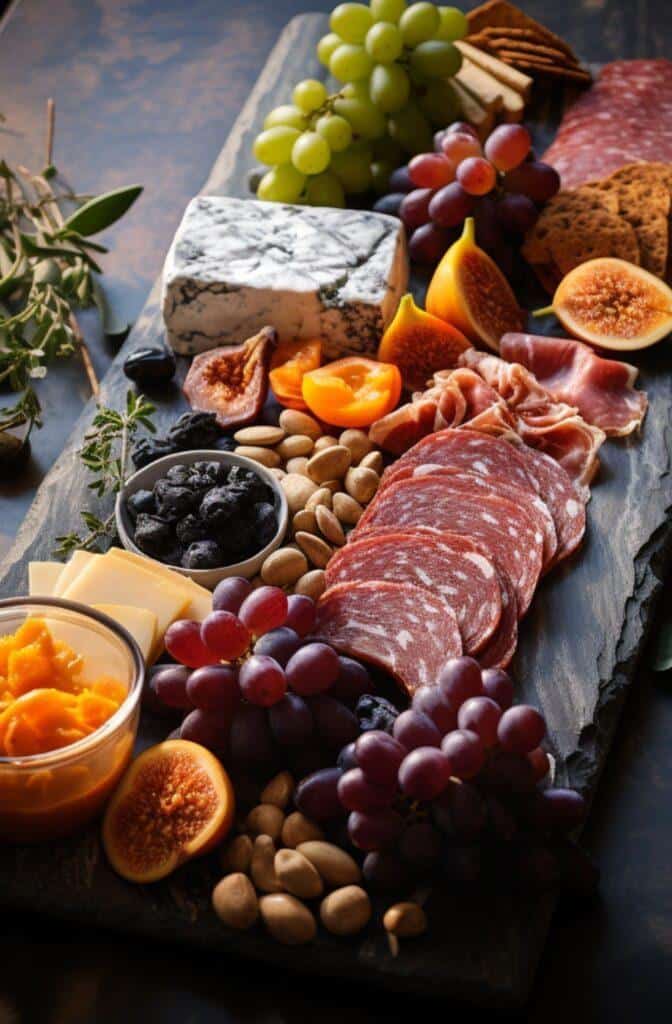 Picture a sleek, dark slate board as your canvas. Its natural, dark stone surface makes a mysterious backdrop for your colorful Halloween charcuterie. The contrasting colors of cheeses, meats, and fruits will pop against the slate, and the rustic, rough edges add to the eerie, ancient ambiance.
Enchanted Woodland Board:
A wooden board, especially one with a rustic, raw edge or a live edge, can transport your guests to a haunted woodland. The warm, earthy tones of wood provide a cozy yet creepy setting for your Halloween spread, creating a charming contrast against the vibrant colors of your charcuterie.
Marble Mausoleum Board:
A white or black marble board can evoke an elegant, tomb-like feel – perfect for your ghostly gathering. The cool, smooth surface is ideal for keeping your cheeses and meats fresh, and the polished, sophisticated look of marble adds a touch of class to your spooky setup.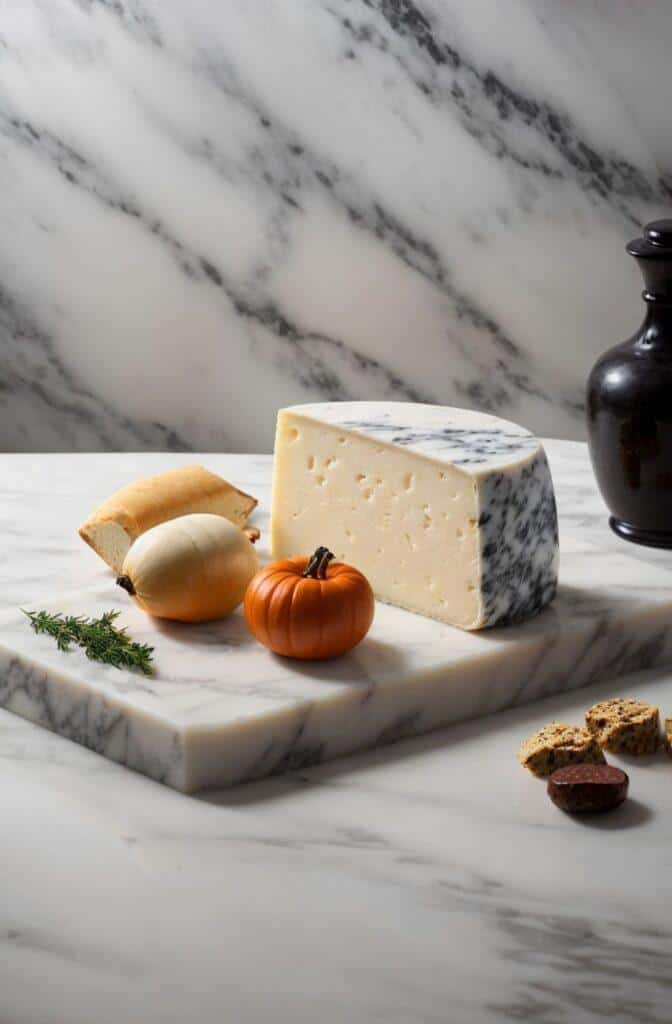 Cemetery Ceramic Platter:
A large ceramic platter with haunting illustrations or in dark, moody colors can set the tone for your Halloween charcuterie. The glossy finish of ceramic showcases the variety of textures and colors in your food, making every morsel look mysteriously mouthwatering.
The Phantom Plexiglass:
For a modern, ghostly vibe, consider a clear plexiglass board. It's like having a phantom platform where your charcuterie items appear to be floating in mid-air. Pair it with some LED lights or eerie underlighting, and you've got a supernatural spread that's sure to be the talk of the crypt!
Each of these boards brings its own unique charm and chills to your Halloween festivity.
Whether you're aiming for an ancient haunted feel or a modern ghostly glow, the perfect board will not only display your devilish delicacies but also enhance the spooky spirit of your Halloween haunt.
So pick a board that bewitches you, load it up with a harrowing yet heavenly assortment of festive Halloween charcuterie board, and let the ghastly grazing begin!
Creating the perfect Halloween charcuterie board is about concocting a cauldron of flavors, textures, and spooky aesthetics.
It's about inviting your guests to a banquet that teases their senses, tickles their taste buds, and transports them to a whimsical world of Halloween wonder.
So as the spooky season descends upon us, roll up your sleeves, unleash your creativity, and let the ghostly gathering begin.
Your Halloween board is not just a meal; it's a journey through the eerie evening, a tale told in cheese, meat, and sweet treats.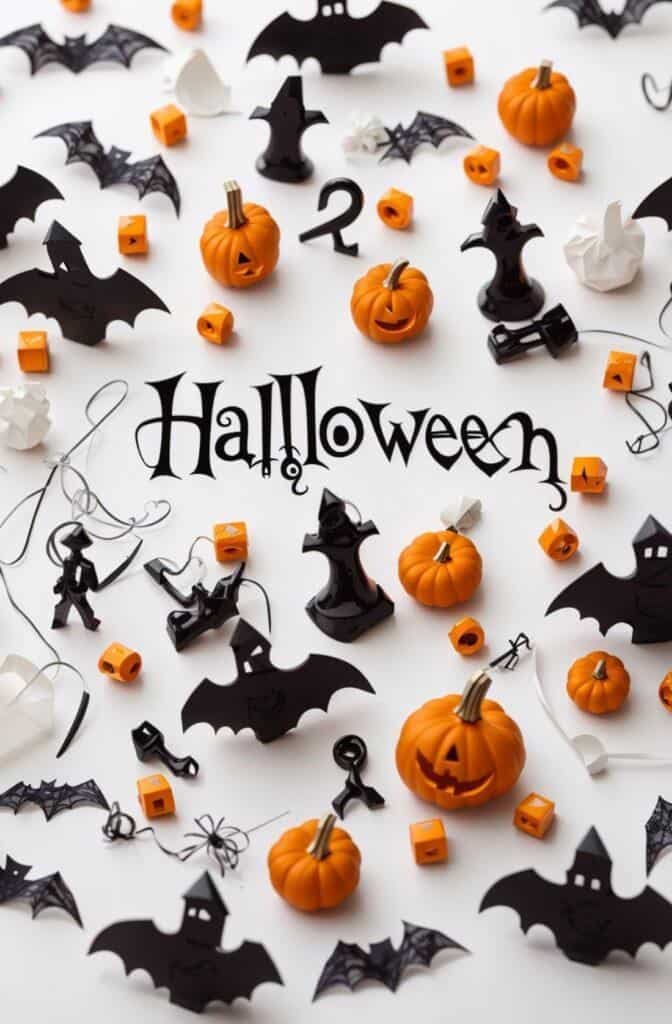 Each bite is a story, each flavor a phantom, and each board a bewitching banquet awaiting to beguile.
So, ready your cheese knives, prepare your eerie edibles, and let the haunted Halloween charcuterie adventure begin!
The best part about creating a Halloween Charcuterie Board is the joy and fun it brings to the table.
Whether you opt for a classic cheese board or a unique charcuterie board filled with Halloween-themed delights, a little planning goes a long way.
The perfect charcuterie board is not just about the food but also about the presentation, the surprises it holds, and the memories it creates.
So, summon your inner kitchen witch or wizard, and start planning your next Halloween party with these fun ideas to create the perfect, spooky, and most unforgettable Halloween charcuterie board ever!