Valentine's Cupcakes – Rich, Moist Vanilla Cupcakes
These rich vanilla Valentine's cupcakes are topped with a silky smooth vanilla buttercream frosting and decorated with red and pink sprinkles to make a deliciously romantic treat!
If you're looking for a simple, yet delicious treat for the one you love, look no further than these tasty vanilla Valentine's Cupcakes topped with a delicate homemade vanilla buttercream frosting!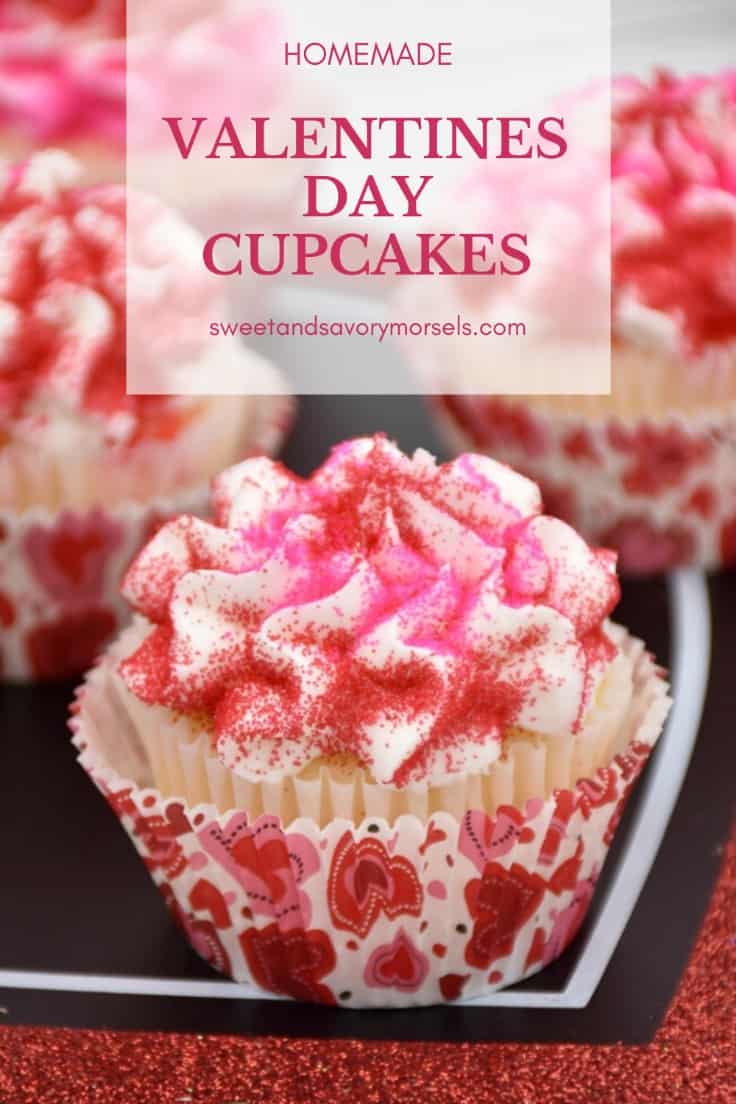 Decorated with colorful sprinkles, these fun Valentine's Cupcakes are filled with flavor and so easy to make. They're the perfect treat for the sweetest day of the year!
How to Make Valentine's Cupcakes
One of my favorite things about these Valentine's Cupcakes is the fact that they are SO many options when it comes to making the cupcakes. You can use the recipe below (highly recommended), use a boxed mix, or even use store-bought cupcakes that have not been decorated.
Vanilla Cupcakes Recipe
Making a vanilla cupcake recipe stand out in this day and age is a challenge. There are literally thousands of vanilla cupcakes recipes on the internet all claiming to be the best cupcake you've ever had. But I have to say it anyway, this recipe REALLY IS incredibly delicious and most likely the best you've ever had! They are melt-in-your-mouth soft, incredibly moist, and absolutely packed with mouth-watering flavor. But don't just take my word for it, give the recipe a try!
Kitchen Tools You May Need
Disclosure: This blog post contains affiliate links for products or services we think you'll like. This means if you make a purchase from one of these links, Sweet and Savory Morsels may make a small commission at no additional cost to you. We only recommend items we use and love.
Ingredients Needed For Valentine's Cupcakes
This simple Valentine's cupcakes recipe uses everyday ingredients to create a deliciously soft and moist cupcake that packed with vanilla-goodness. It's very similar to other cupcake recipes, except that I like to use sour cream to help make the cupcakes moist! You'll find a complete list of ingredients and full instructions in the printable recipe at the end of this post.
flour
sugar
salt
baking powder
baking soda
sour cream
whole milk
butter
egg whites
Using Vanilla Bean Paste vs Vanilla Extract
The key to making these cupcakes deliciously flavorful is to use a high-quality vanilla flavoring. I prefer to use vanilla bean paste as I feel it gives a richer, more natural vanilla flavoring. My favorite is Nielsen-Massey Pure Vanilla Bean Paste. It's pricey but so worth it!
However, using vanilla extract will work fine, too. Just pick a good brand such as Nielsen-Massey Bourbon Madagascar Vanilla Extract. again, it's more expensive than others, but believe me, it is well worth it! And no, this is not a sponsored post for Neisen-Massey, I just really like their products! 😉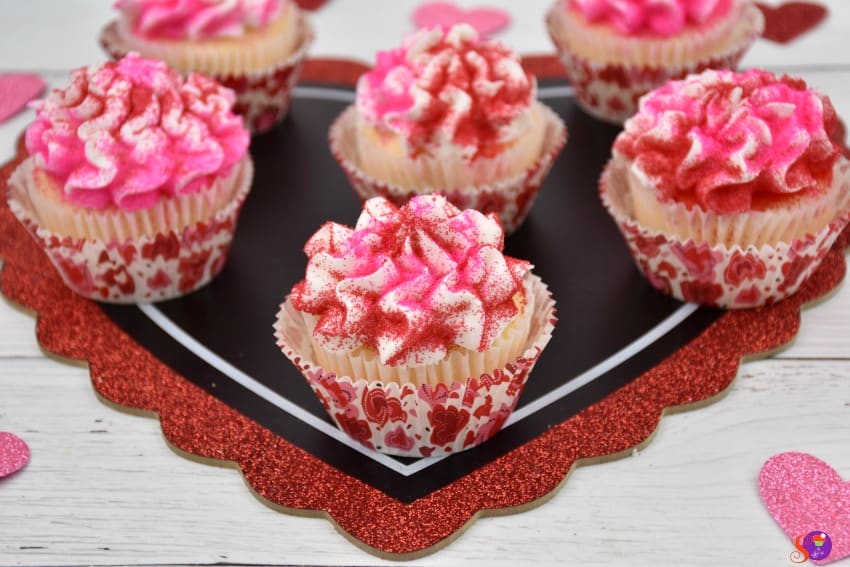 Vanilla Buttercream Frosting Recipe
No cupcake is complete without frosting, and this is one of my favorite buttercream frosting recipes. It's actually my go-to buttercream frosting recipe because it's quick, super easy to whip up, and absolutely delicious.
This frosting is rich, creamy, and holds its shape beautifully. This makes it perfect for piping or for simply spreading onto cupcakes and cakes.
Frosting Ingredients
The frosting comes out so light, fluffy, and silky smooth!And all you need are four very common ingredients, including:
vanilla paste or extract
heavy cream
powdered sugar
unsalted butter
And to decorate, all you need are:
Pro Tips For Moist Vanilla Cupcakes
One of the most common mistakes when making cupcakes is adding too much flour. While using a kitchen scale is the best way to measure flour, it also works well to first use a spoon to fluff up the flour within the container. Then use the spoon to scoop the flour into a measuring cup, then take a knife or other straight-edged utensil and use it to level the flour across the measuring cup.
The trick to baking fluffy and moist cupcakes is to mix the batter with a light hand. The air bubbles in the batter will expand in the oven leaving you with light and fluffy cupcakes. To create these air bubbles, when combining the wet and dry ingredients, do not overmix. Mix the cupcake batter on low speed and stop just as all ingredients blend.
Don't forget my tips above about using a high-quality flavoring!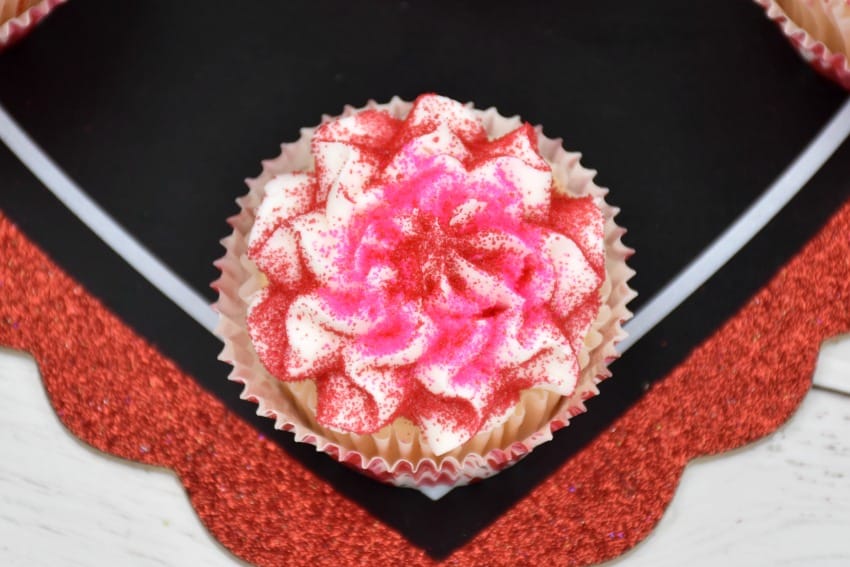 How Long Will Vanilla Cupcakes Last?
These cupcakes are so amazingly delicious, you may not have any leftovers! But if you do, cupcakes made with this particular vanilla cupcake recipe will be fine for a day or two if you store them in an airtight container on the counter.
If refrigerated, again in an airtight container, they will last for about three days. Just let them come to room temperature before eating.
You can also freeze these cupcakes for up to two months. However, freeze them unfrosted.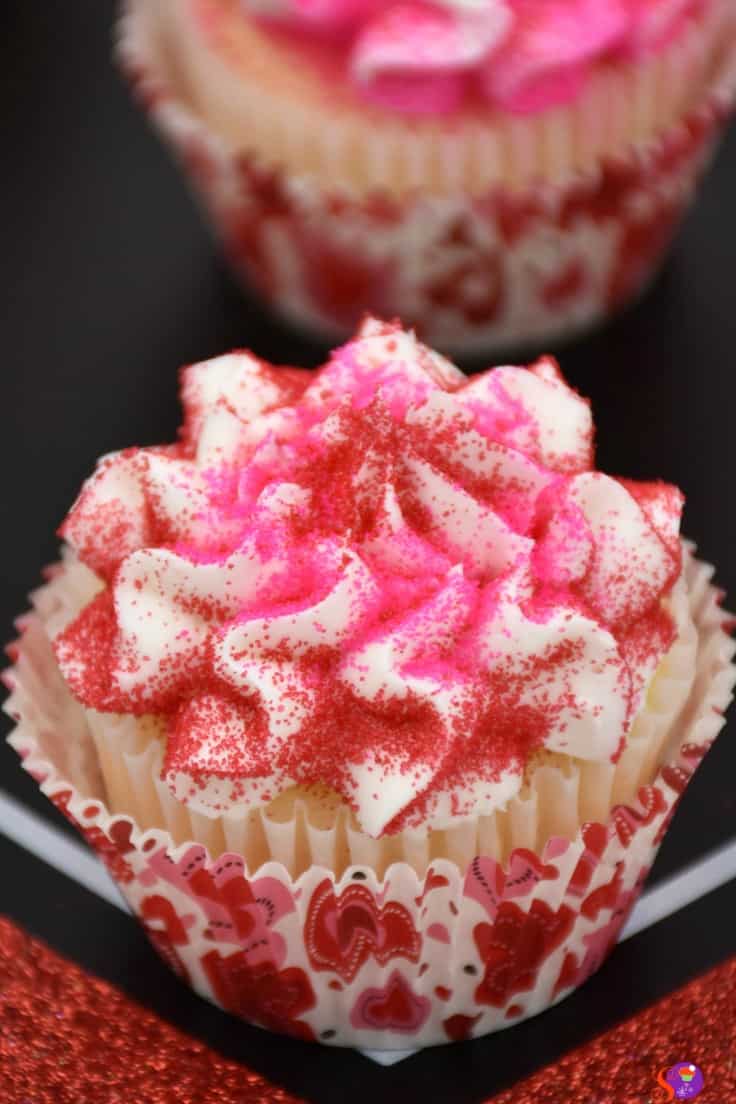 Can You Use Whole Eggs Instead of Just the Egg Whites
The reason I use egg whites only in this vanilla cupcakes recipe is that it makes for a whiter cake. However, you can definitely use the whole egg, just reduce the amount of sour cream by half.
Printable Valentines Cupcakes Recipe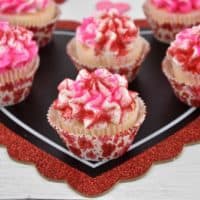 Valentine's Cupcakes
If you're looking for a simple, yet delicious treat for the one you love, look no further than these tasty vanilla Valentine's Cupcakes topped with a delicate homemade vanilla buttercream frosting! 
Print
Pin
Ingredients
1⅔

cups

all-purpose flour

1

cup

sugar

1½

tsp

baking powder

¼

tsp

baking soda

¼

tsp

salt

¾

cup

unsalted butter

melted

3

egg whites

at room temperature

1

tbsp

vanilla

½

cup

whole milk

warm

½

cup

sour cream

room temperature
Frosting Ingredients
1

cup

unsalted butter

room temperature

4½

cups

powdered sugar

1

tbsp

vanilla extract

4-5

tbsp

heavy cream

sugar sprinkles

red and pink
Instructions
Cupcake Instructions
Preheat oven to 350 degrees F. Line a muffin pan with cupcake liners.

In a large mixing bowl, sift together the flour, sugar, salt, baking powder, and baking soda. Whisk to combine.

Separate the eggs. Save the yolks for another recipe.

In another large bowl, whisk together the wet ingredients until completely combined. The batter may be lumpy, but that's okay!

Add the wet ingredients to the dry ingredients. Mix until they are just combined.

Using a cookie scoop or spoon, fill cupcake wells about ⅔ full.

Bake for about 18 minutes or until centers spring back from the touch.

Allow cupcakes to cool in the pan for about 10 minutes, then remove to a cooling rack. Let cool completely before frosting and decorating.
Frosting Instructions
Beat the softened butter over medium speed with an electric mixer until creamy and soft.

Continue to beat over medium speed as you slowly mix in the powdered sugar. Be sure to stop the mixer and scrape down the sides of the bowl with a spatula as needed to make sure the sugar becomes fully incorporated.

Once the butter and sugar are completely combined, add in the vanilla extract.

Add in the heavy cream 1 Tablespoon at a time until the frosting reaches the desired consistency.

Scoop frosting into an icing bag fitted with your desired piping tip. I used a Russian Ball Tip to decorate mine.
Decorating the Cupcakes
Once cupcakes have cooled, frost liberally.

Decorate by dusting with colored sugar sprinkles in desired patterns and designs.
Notes
The frosting recipe will make enough vanilla buttercream frosting to frost 12 cupcakes or 1 two-layer 8-inch cake.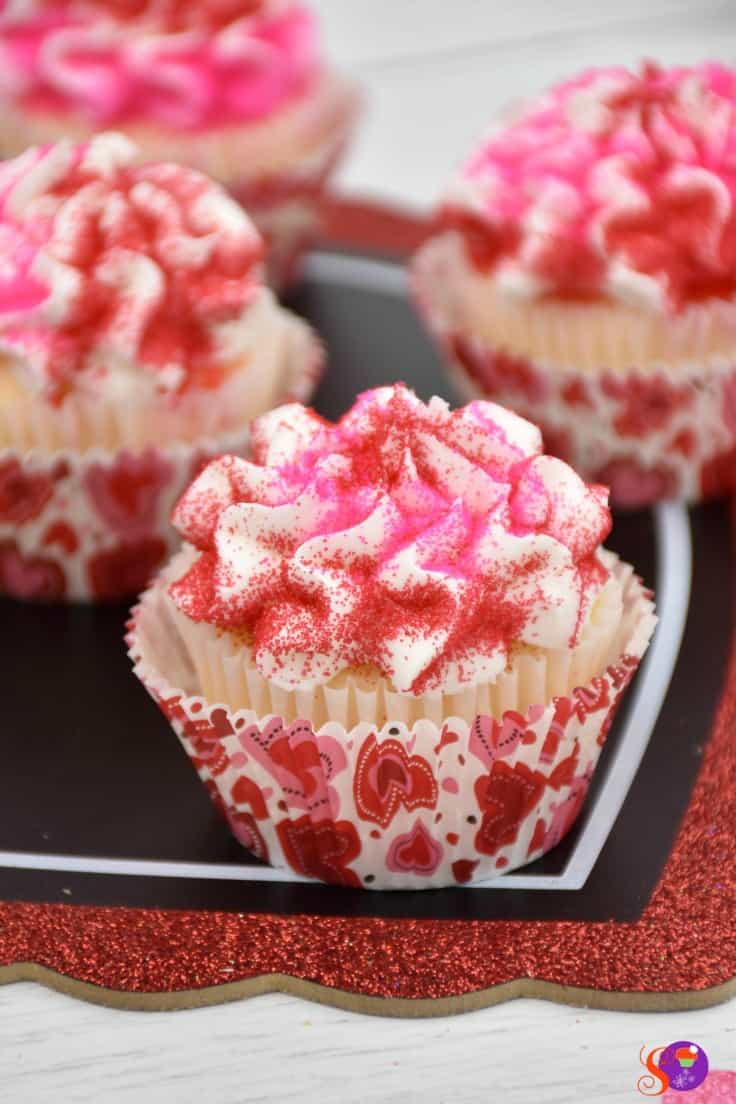 More Delicious Cupcake Recipes
I really hope you enjoy this easy vanilla Valentine's Cupcakes recipe! If you're looking for more delicious and easy Valentine's Day recipes, give these a try: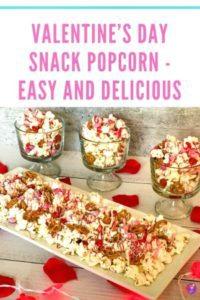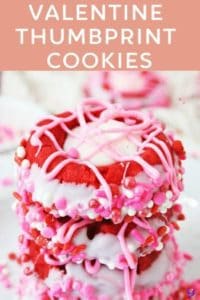 If you make this tasty Valentine's Cupcake recipe, we'd love to know! Leave us a comment below, or share it with a picture on Instagram or Facebook! Be sure to tag us @sweetandsavorymorsels and use the hashtag #sweetandsavorymorsels!