HOLIDAY BUTTER BOARD: A FESTIVE SPREAD
This season, transform mealtime with something unique and special. The Holiday Butter Board combines the classic restaurant butter service trend with a modern-twist charcuterie board to create an exquisite presentation that will wow your guests!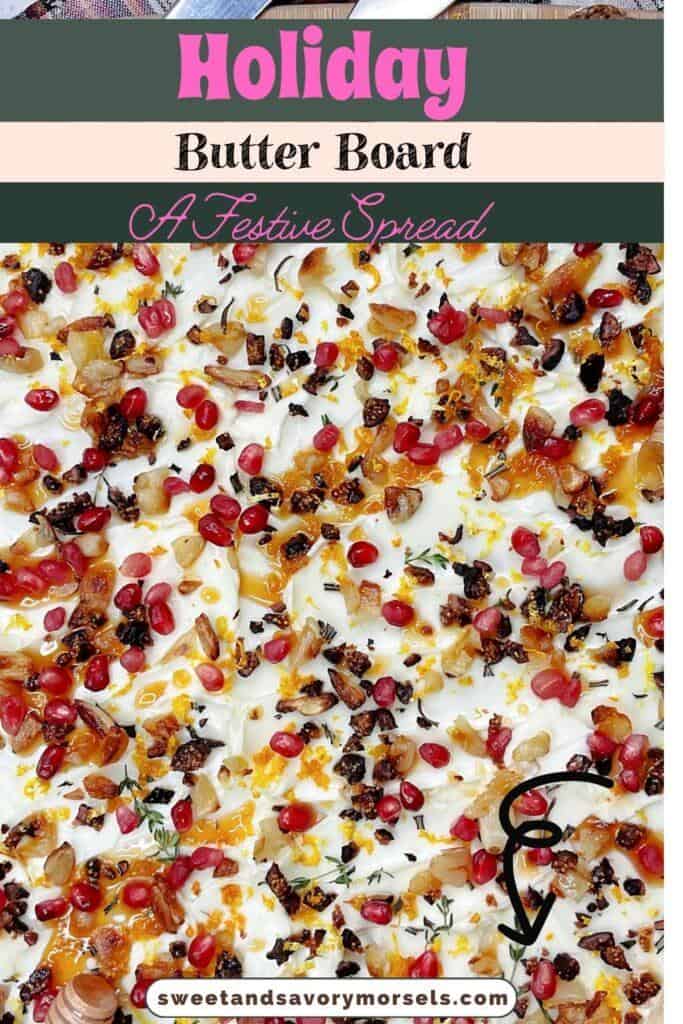 This Holiday Butter Board is perfect for Thanksgiving, Christmas, or any other holiday celebration. The Butter Board is the new Charcuterie Board.
Butter Boards are best described as a cross between a charcuterie board and a fancy restaurant's butter service. It's a board smeared with softened butter and strewn with tasty ingredients.
Why You'll Love This Holiday Butter Board
Easy to Make
This is a fun and easy twist on the traditional Butter Board, made with simple ingredients, and it's a delicious way to spend the holidays.
Festive and Fun
The Butter Board makes an impressive presentation, and you can create an amazing display for any occasion by combining beautiful and versatile items! It not only adds color and festiveness to the table, but it's also an entertaining way to serve a variety of snacks.
Affordable
There's a reason why butter boards are so popular. Creating a Holiday Butter Board is delightfully cost-effective, making it a smart choice for entertainers on a budget. The beauty of butter boards lies in their flexibility; you can use items you already have in your pantry or fridge, allowing you to impress your guests without stretching your holiday spending.
Equipment Needed to Make Butter Board
Ingredients For Your Butter Board
Unsalted Butter, Room Temperature
Fresh Thyme Leaves
Fresh Rosemary
Figs, Minced
Pomegranate Seeds
Bread
Focaccia
Herbed Bread
French Bread
Rustic Bread
Whole Wheat Loaves
How To Make A Holiday Butter Board
Step 1: Prepping the Holiday Butter Board
Onto an 8–10-inch diameter board or platter, spread the butter to 1/8-inch thick with a knife or spoon.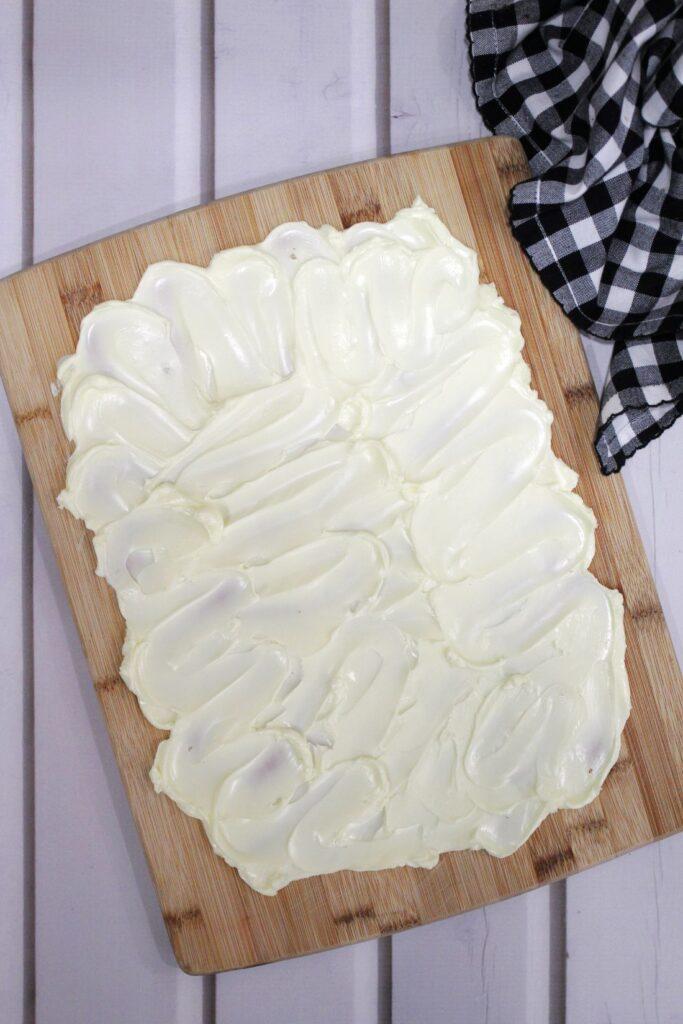 Step 2
Sprinkle the butter with sea salt. Add the roasted garlic and figs spread evenly over the board.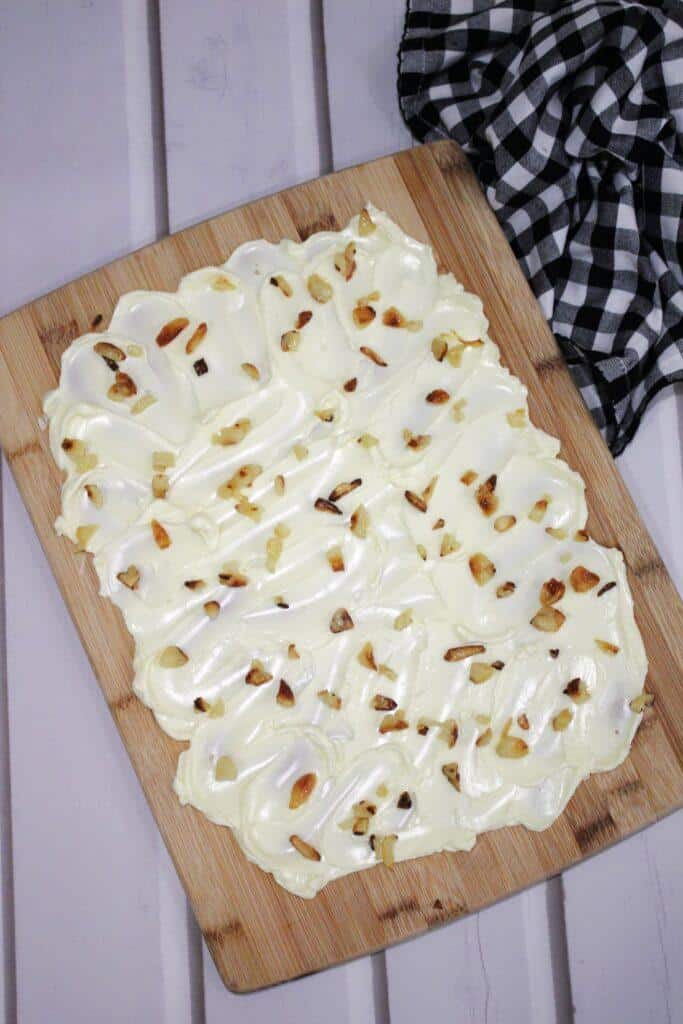 Step 3
Sprinkle the thyme and rosemary evenly over top.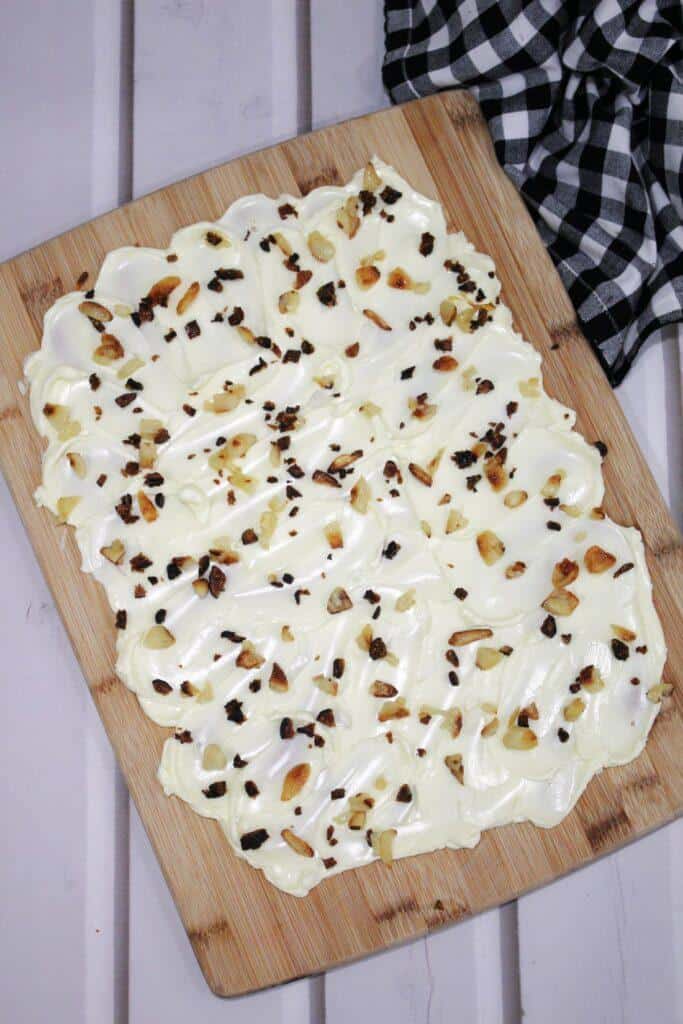 Step 4
Drizzle the hot honey over the butter.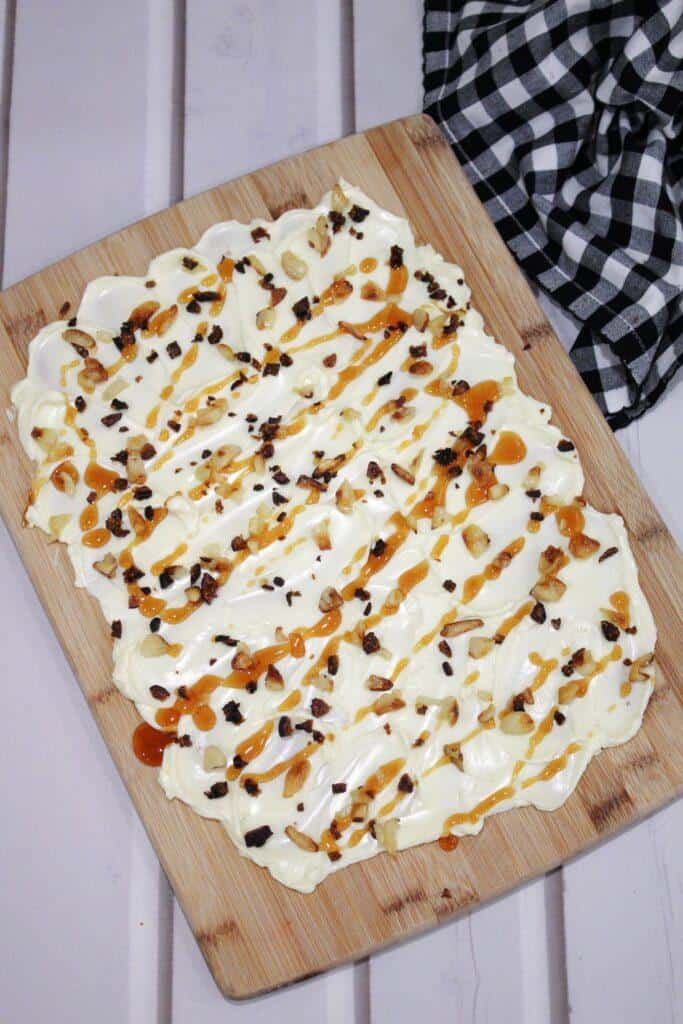 Step 5
Add your orange zest all over the board.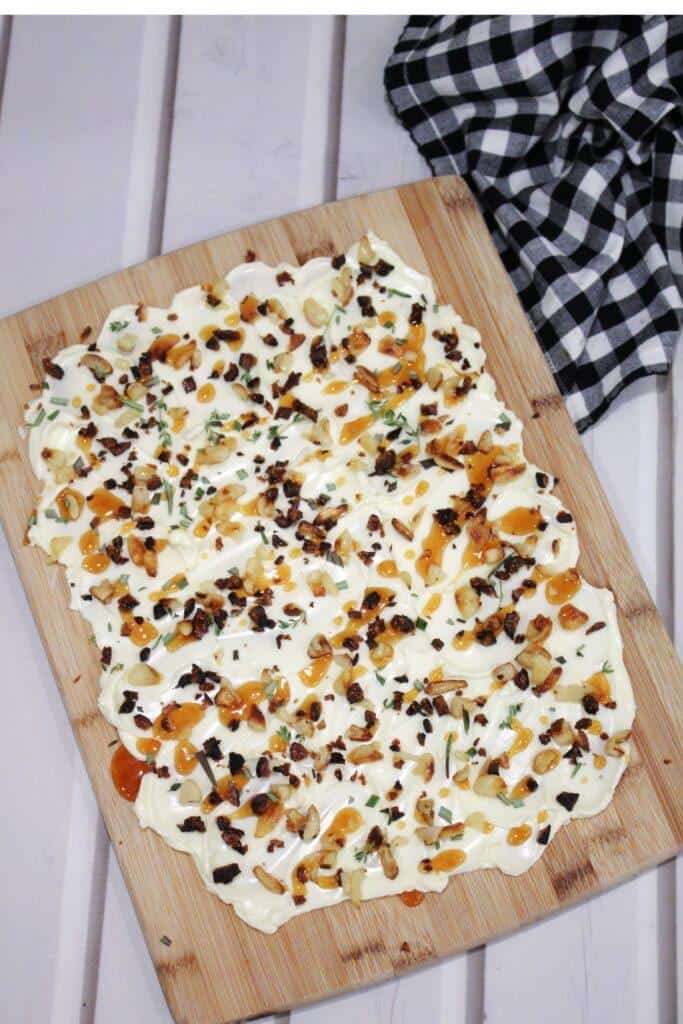 Step 6
Top evenly with pomegranate seeds. Place your board on a table and enjoy!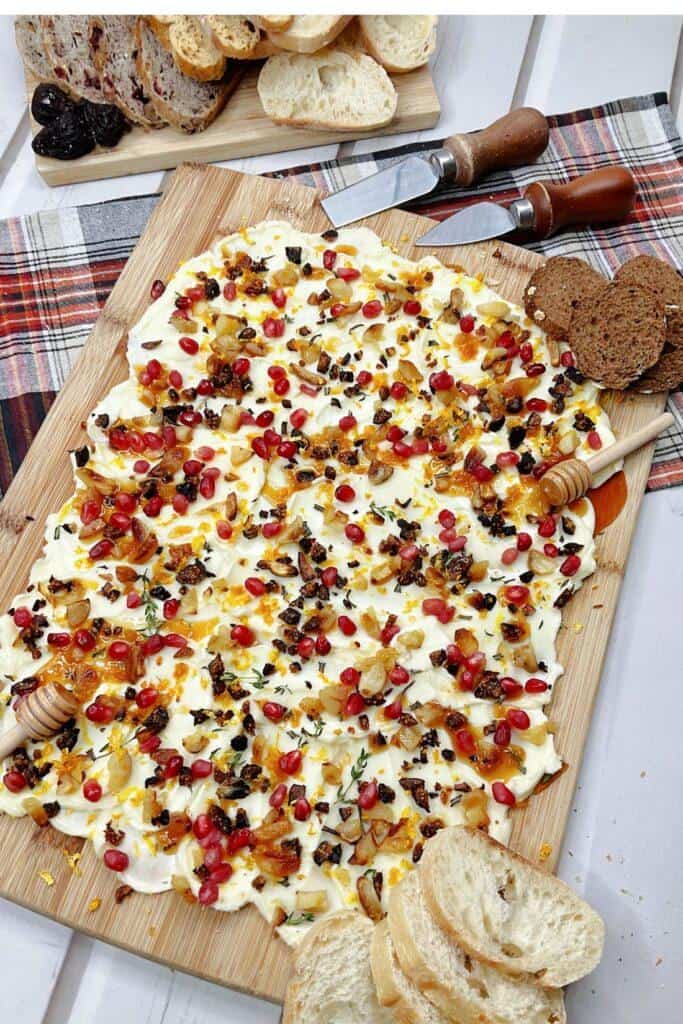 What to Serve with Your Holiday Butter Board
Sides
This Butter Board will complement any table setting. With a fun assortment of sweet little snacks, your guests' mouths will water for more. If you're having friends over for dinner, serve this as an appetizer in the center of the table.
Place the board on the table, along with a basket of baguette slices and crackers, and let everyone dig in.
Desserts
Pair your Holiday Butter Board with desserts that complement its rich and savory flavors. Opt for classic baked goods like warm, crusty artisan bread or flaky croissants that can be dipped and smeared with the seasoned butter.
For a sweet contrast, serve alongside slices of spiced pumpkin loaf, gingerbread, or fruit-laden stollen.
Drinks
For a more traditional twist, serve with champagne or sparkling wine. A hot cup of coffee or hot chocolate can help offset the amount of sugar on this board.
Popular Substitutions & Additions
As this board can be completely customized to your liking, aim for variety. There are no restrictions on what you can post on this board.
You can also add snacks to the board. A helpful tip: all the snacks that may surround the board are also optional and can be switched out for something of your choosing.
For a little extra flair, try adding the following:
fresh fruits and vegetables

mixed nuts

something salty to balance out the sweetness

pre-packaged/homemade desserts
To make for easy cleanup, you can put parchment paper on your board before adding your butter.
You have two options for serving. You can place a knife on the board and instruct people to use the knife to scrape the butter and toppings onto their bread or bread plate. You can also omit the knife, which will tempt people to dip the bread or cracker directly into the butter.
How To Reheat and Store Holiday Butter Board
Best Way To Store Butter Board Leftover
Carefully collect the remaining butter on the board. Store the butter in an airtight container.
By properly storing your leftover butter, you can extend its life and enjoy the festive flavors well beyond your holiday gathering.
How Long Will Butter Board Last In the Fridge?
The butter board can be stored in the refrigerator for up to a week.
Can I Freeze Butter Board
If you only have a small amount of butter that you know you won't use within a week, the freezer is your best bet for storing it.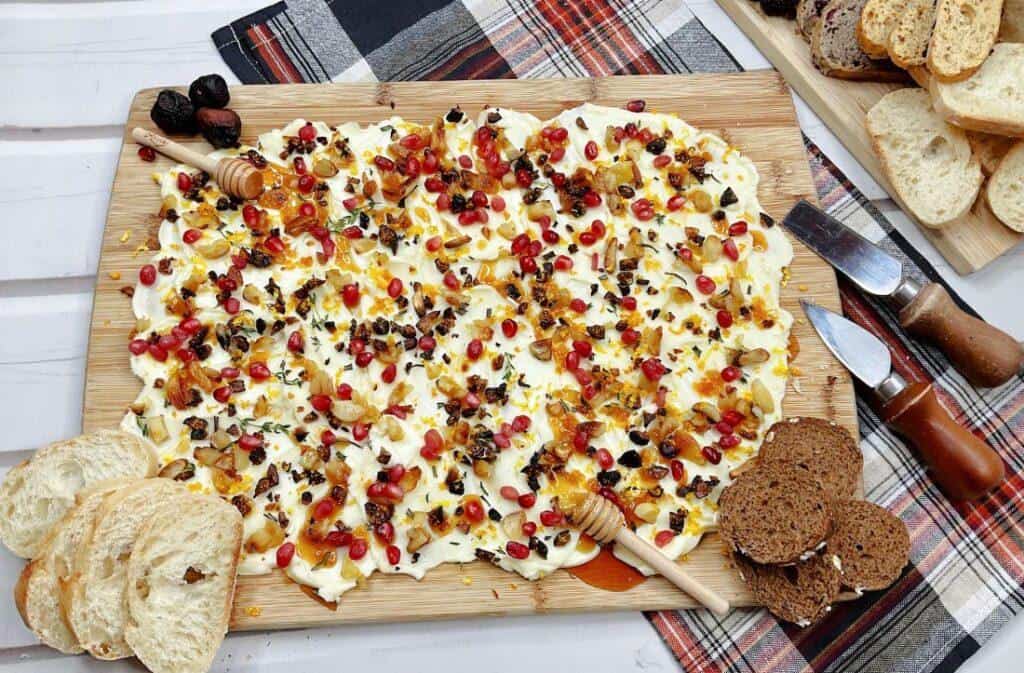 Butter Board FAQs
Can you serve this Butter Board on any board?
Yes, you can choose any shape or size of board you want; it doesn't have to be wooden. You can use whatever size board or platter you choose, including round lazy Susan or large rounds with handles.
Can this Butter Board have a healthier and guilt-free version?
Yes, vegan alternatives, gluten-free, sugar-free, and minimally processed ingredients can be used to make a healthier Butter Board.
Can I make this Butter Board with store-bought items?
Yes! That's what makes putting together a Butter Board so simple. However, store-bought items like cookies and candies can be used as well.
Other Recipes You'll Love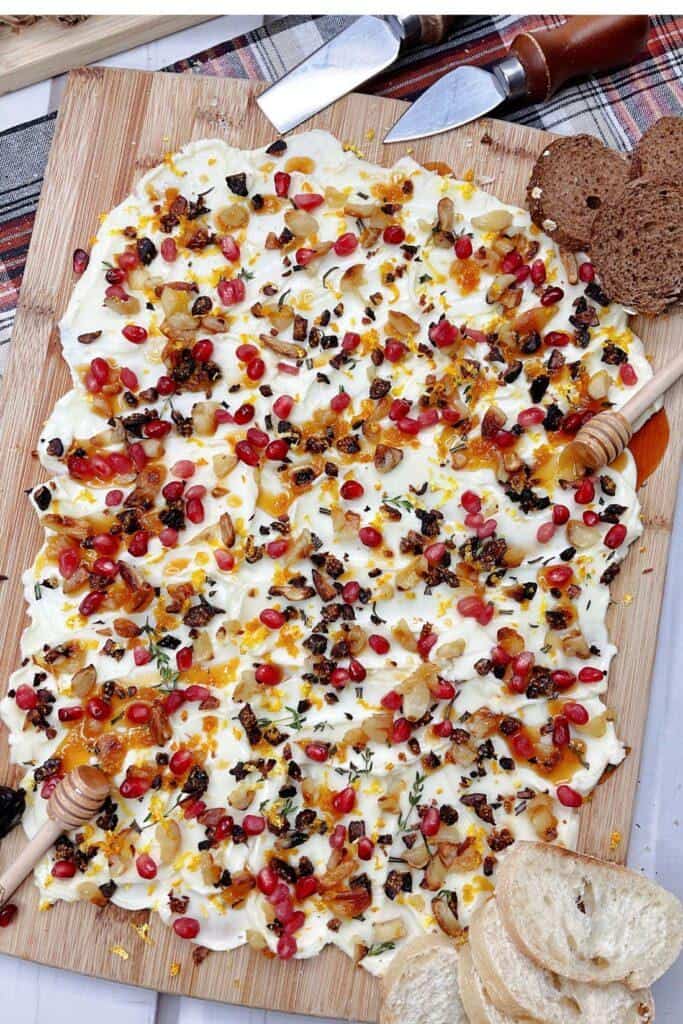 Holiday Butter Board: A Festive Spread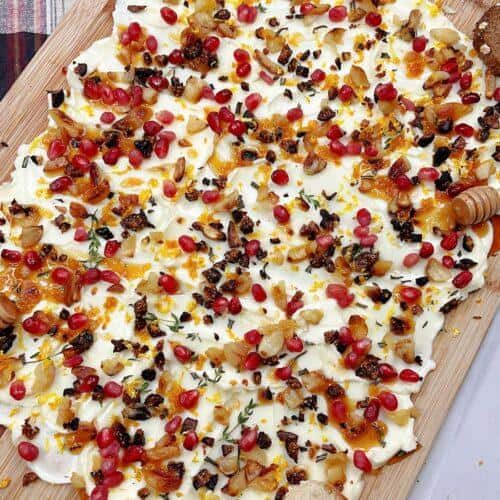 HOLIDAY BUTTER BOARD: A FESTIVE SPREAD
Whip up a Holiday Butter Board to dazzle your guests! It's a simple yet stunning way to serve up flavored butters, adorned with festive herbs and edible garnishes. This appetizing centerpiece is the perfect addition to your holiday spread, promising a deliciously memorable experience for all.
Print
Pin
Equipment
Wooden Cutting Board or Platter

Spreading Knife

Mini Knife

Spoon

Honey Dipper

Parchment Paper

(optional)
Ingredients
Unsalted Butter, Room Temperature

Kosher Sea Salt

Orange Zest

Fresh Thyme Leaves

Fresh Rosemary

Hot Honey

Figs, Minced

Roasted Garlic

Pomegranate Seeds

Bread

Focaccia

Herbed Bread

French Bread

Rustic Bread

Whole Wheat Loaves

Sourdough
Instructions
Spread the butter to 1/8-inch thick with a knife or spoon on a 8 to 10 inch diameter board or platter.

Sprinkle the butter with sea salt.

Add the roasted garlic, and figs spread evenly over the board.

Sprinkle the thyme and rosemary evenly over top.

Drizzle the hot honey over the butter.

Add your orange zest all over the board.

Top evenly with pomegranate seeds.

Place your board on a table and enjoy!