Chocolate Peanut Butter Cupcakes – Delectable Homemade Cupcakes
Rich, dark, and incredibly moist chocolate cupcakes are filled with peanut butter then topped with a chocolate-drizzled peanut butter buttercream frosting in this homemade Chocolate Peanut Butter Cupcakes recipe.
One of my all-time favorite flavor combinations is chocolate and peanut butter. You simply can't go wrong with it. And when you take those two flavors and put them into a rich, moist cupcake, what do you get? The BEST CUPCAKES EVER! Seriously, these cupcakes are THAT good!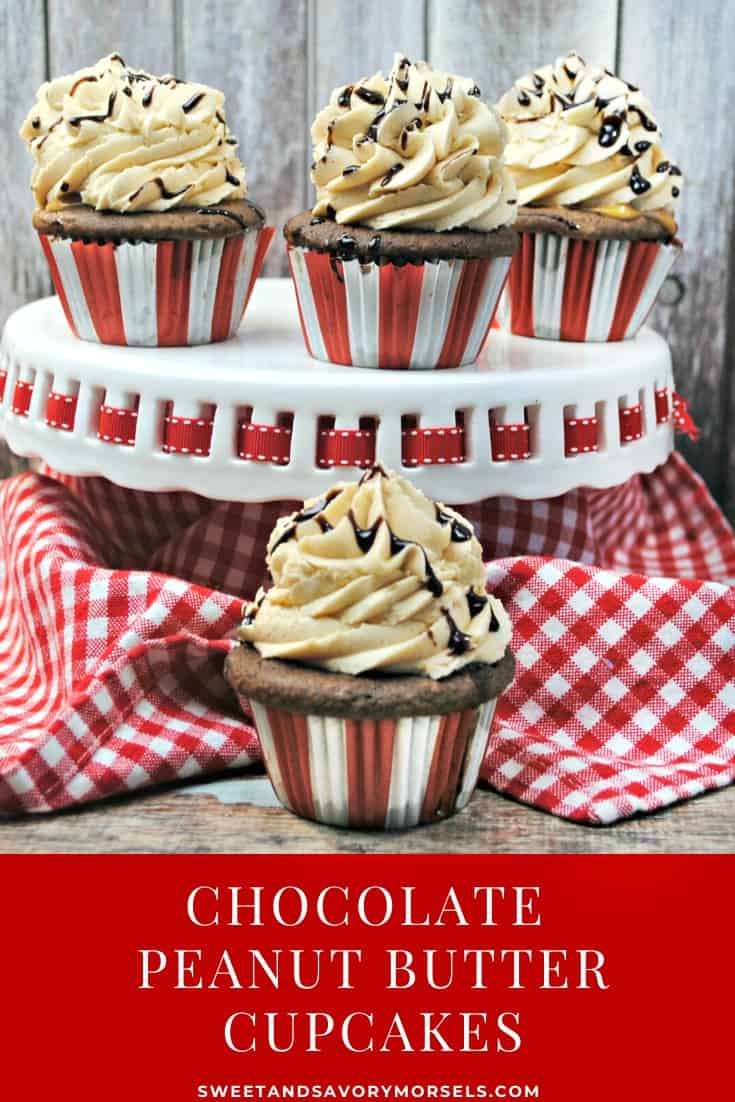 These delicious homemade Chocolate Peanut Butter Cupcakes are a fun and tasty treat that everyone will enjoy! Best of all, they are easy-to-make!
How To Make Chocolate Peanut Butter Cupcakes
Making these homemade chocolate cupcakes isn't much different than making regular made-from-scratch cupcakes aside from the addition of the peanut butter filling. With just five to ten minutes of prep time and twenty-or-so minutes of cooking time, these scrumptious cupcakes will be ready to eat in no time at all. You can find the complete ingredients and instructions in the printable recipe below.
Kitchen Tools You May Need
Disclosure: This blog post contains affiliate links for products or services we think you'll like. This means if you make a purchase from one of these links, Sweet and Savory Morsels may make a small commission at no additional cost to you. We only recommend items we use and love.
How to Add the Peanut Butter Filling
Once the cupcakes are finished baking, you will need to scoop out a small amount from the middle of each cupcake in order to add the melted peanut butter. I've found that using a small cookie dough scooper works perfectly for this!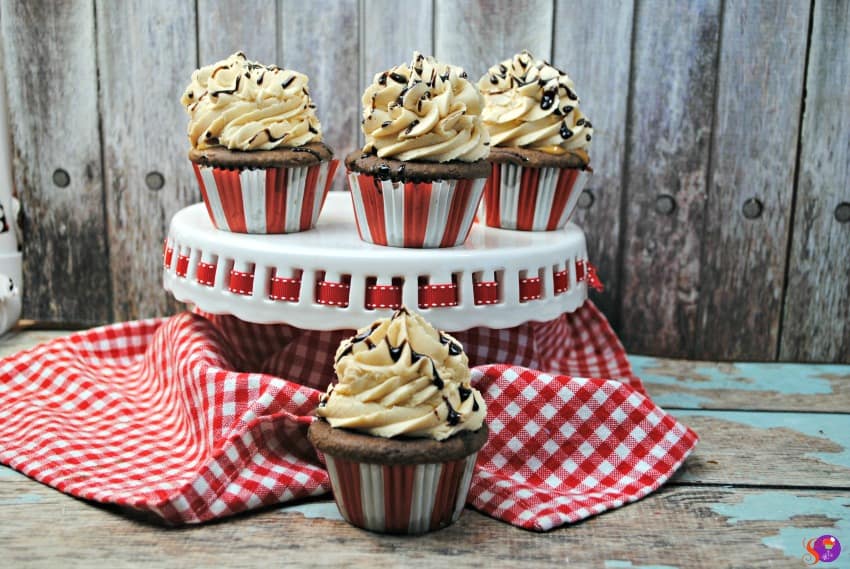 Peanut Butter Buttercream Frosting Tips
Making a homemade buttercream frosting isn't always as simple as one thinks – especially if you've never made it before. I remember the first time I tried to make it, the frosting came out way too thick and wasn't as smooth as it should've been. So below I've included some tips on both making frosting and icing cupcakes that I've learned along the way. Hopefully, these tips will help you as well!
When preparing the buttercream frosting, make sure the butter is soft, or it won't easily incorporate into the buttercream.
While mixing the frosting, if powdered sugar pebbles form, simply add in little more heavy cream (up to 1 to 2 additional tablespoons).
If the frosting is too thin add in up to an additional ½ C powder sugar.
No pastry bag or tip? Just fill a zip-lock bag with buttercream and then snip 1/2 inch off corner.
Do not start frosting until the cupcakes are completely cooled.
Can These Cupcakes Be Stored?
Yes! If you are simply storing these for the next day, place them in a container then store them in a cool, dry place as this will help ensure the buttercream frosting stays creamy and soft. For longer keeping, cover and store the cupcakes in the refrigerator for up to 5 days.
Chocolate Peanut Butter Cupcakes Recipe – Printable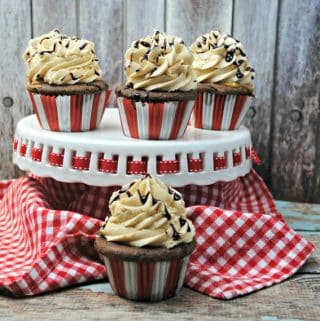 Chocolate Peanut Butter Cupcakes
Rich, moist chocolate cupcakes are filled with melted peanut butter and then topped with a sweet, satiny smooth, peanut butter frosting. A drizzle of melted chocolate tops off this delectable dessert.
Print
Pin
Ingredients
Cupcake Ingredients
1

cup

unsalted sweet cream butter

softened

3

cups

sugar

3

cups

flour

1

cup

cocoa

2

tsp

baking soda

½

tsp

sea salt

4

eggs

1

tsp

vanilla

1

cup

buttermilk

1

cup

water

1

cup

peanut butter

for the filling after cupcakes are made
Frosting Ingredients
1

cup

unsalted sweet cream butter

unsalted

3

cups

powdered sugar

½

cups

peanut butter

5

tbsp

heavy whipping cream

1

tsp

vanilla

chocolate syrup

for drizzling
Instructions
Cupcake Instructions
Preheat oven to 350 degrees and fill a cupcake pan with cupcake liners.

In a large bowl, cream together the butter and sugar and cream until completely mixed.

Add in the eggs, one at a time, beating to combine.

In another large bowl, combine all of the dry ingredients.

In a third bowl, combine the milk and water.

Slowly pour the wet ingredients into the dry, stirring well after each addition to make sure all ingredients are thoroughly combined.

Evenly divide the batter into the 12 cupcake cups, making sure they are no more than 2/3 of the way full.

Bake for 21 minutes or until a toothpick inserted in the middle comes out dry.

Let cupcakes cool on wire racks before frosting.
Instructions To Make the Frosting
Add in all ingredients into a standing mixer and mix until combined and stiff peaks form. You'll know its ready when the frosting is stiff and doesn't fall off a spoon.

**If powder sugar pebbles form, add in more heavy cream (1 to 2 tbsp).
If too thin add in 1/2 C powder sugar.**
Putting It All Together
Add the remaining cup of peanut butter to a small, microwave-safe bowl, and put microwave for 1 minute. Stir.


Carefully carve out a small hole into the center of each cupcake and fill with the melted peanut butter.

Frost the cupcakes with the peanut butter icing, and then drizzle with chocolate.
Nutrition
What's Next
I really hope you enjoy these scrumptious Chocolate Peanut Butter Cupcakes! Be sure to check out our other dessert recipes for more amazing treats!
If you get a chance to make them, we'd love to know! Leave us a comment below, or share with a picture on Instagram or Facebook! Don't forget to tag us @sweetandsavorymorsels and use the hashtag #sweetandsavorymorsels so we can see how they turned out!