Looking to enhance your fiesta to the next level? Say no more! We have the perfect solution for you: a custom margarita board. This essential party accessory not only adds a touch of style but also enhances the convenience of serving margaritas at your gatherings.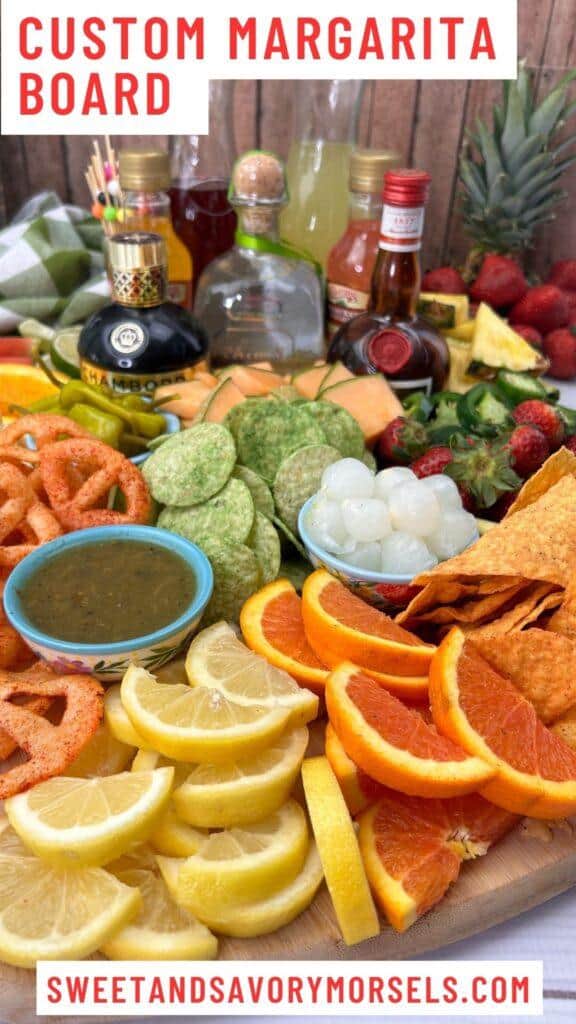 When it comes to hosting a sensational summer bash, a vibrant Cinco de Mayo celebration, or any occasion where you desire to awe your guests with a remarkable personalized touch, nothing can compare to the extraordinary impact of a custom margarita board.
Prepare to embark on an exciting journey as we delve deep into the captivating ways this distinctive addition has the power to elevate your fiesta to unprecedented heights, creating an indelible and unforgettable experience for all.
Let us guide you on this exhilarating exploration of flavors, colors, and ambiance, and witness how this game-changing element can transform any gathering into an immersive and unforgettable fiesta that will leave a lasting impression on your guests for years to come.
Why You'll Love This Margarita Board
The Margarita Board offers endless possibilities for customization, making it easy to create a margarita tailored to your taste buds. From the type of glass to the mix-ins and garnishes, you can mix and match to create a margarita perfectly suited to your preferences.
The recipe encourages your guests to get creative and experiment with different flavors, mix-ins, and garnishes. This interactive element adds fun and social to your gathering, making it a great way to break the ice and get everyone mingling.
The Margarita Board can be adapted to suit a wide range of dietary needs and preferences.
The Margarita Board is delicious and makes for an eye-catching display that will impress your guests. It's vibrant colors and creative presentation add a festive touch to any party or gathering.
It creates a memorable experience for your guests that they will discuss for weeks. It's the perfect way to inject fun and excitement into your next happy hour or get-together.
Disclosure: This blog post contains affiliate links for products we believe you'll love. So if you purchase from one of these links, Sweet and Savory Morsels may make a small commission at no additional cost to you. And remember, we only recommend items that we use and love.
Equipment Needed to Make Margarita Board
Ingredients For Your Margarita Board
Tequila
Grand Mariner
Chambord
Limes
Lemons
Fresh Jalapeños
Cara Cara Oranges
Oranges
Watermelon
Pineapple
Cantaloupe
Mango
Strawberries
Pepper Jack Cheese
Variety Of Chips
How To Make A Margarita Board
Step 1: Start Setting Up
Pour your chosen margarita mixes into small carafes or pitchers and arrange them on the Margarita Board. This allows your guests to mix and match different flavors and create their own unique margarita combinations.
Step 2: Place the Liquors
Next, add the essential ingredients to the Margarita Board – Tequila, Grand Mariner, and Chambord. These are the building blocks of any classic margarita, and having them on hand will allow your guests to experiment and create their own perfect cocktail.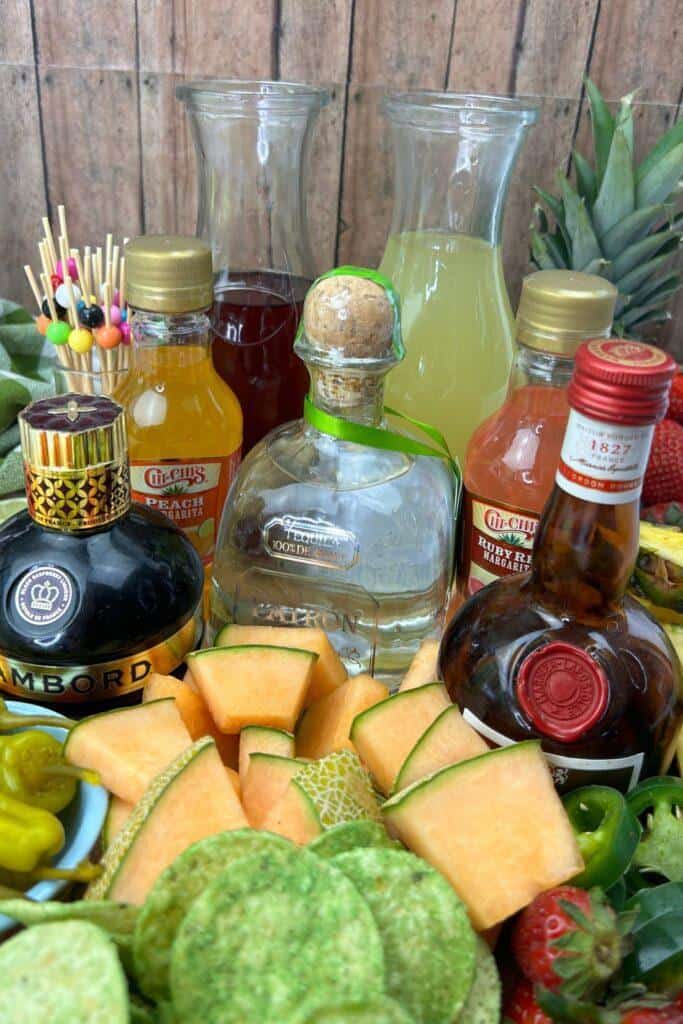 Step 3: Arrange Other Ingredients
Put sliced watermelon, mango, cantaloupe, oranges, limes, lemons, and pineapple on the board. Adding fresh sliced fruit to the Margarita Board is a great way to add color and flavor to the spread. Sliced watermelon, mango, cantaloupe, oranges, limes, lemons, and pineapple make great additions.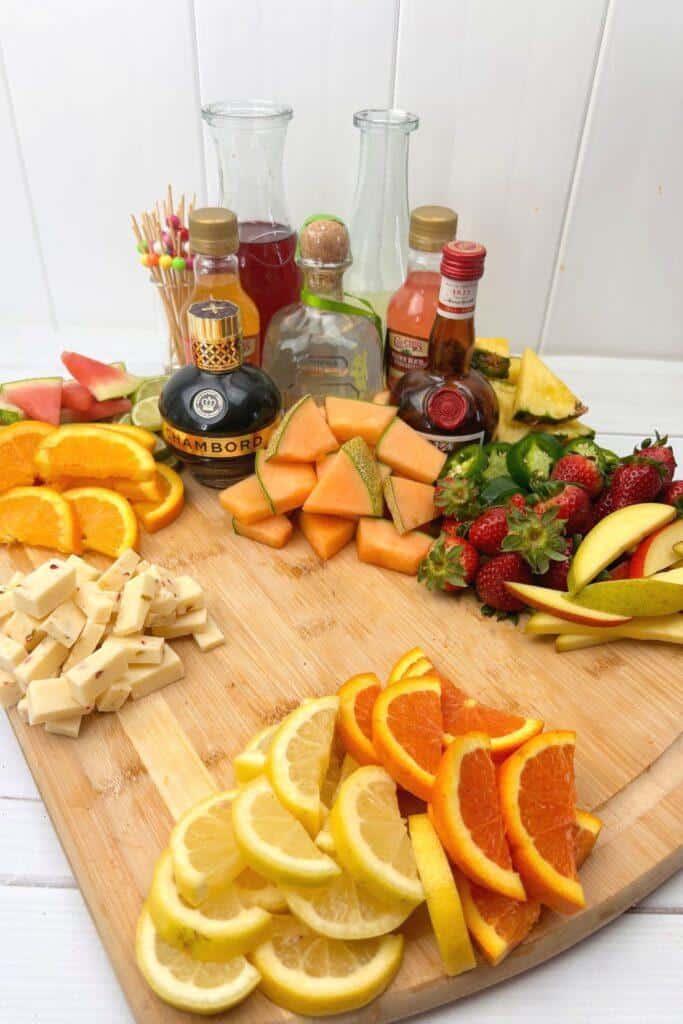 Put the small bowls filled with salsa, pearl onions, and pickled peppers on the board. Small bowls of condiments like salsa, pearl onions, and pickled peppers can add a delicious and unexpected twist to your Margarita Board.
These can be used as garnishes or mixed with margaritas for added flavor.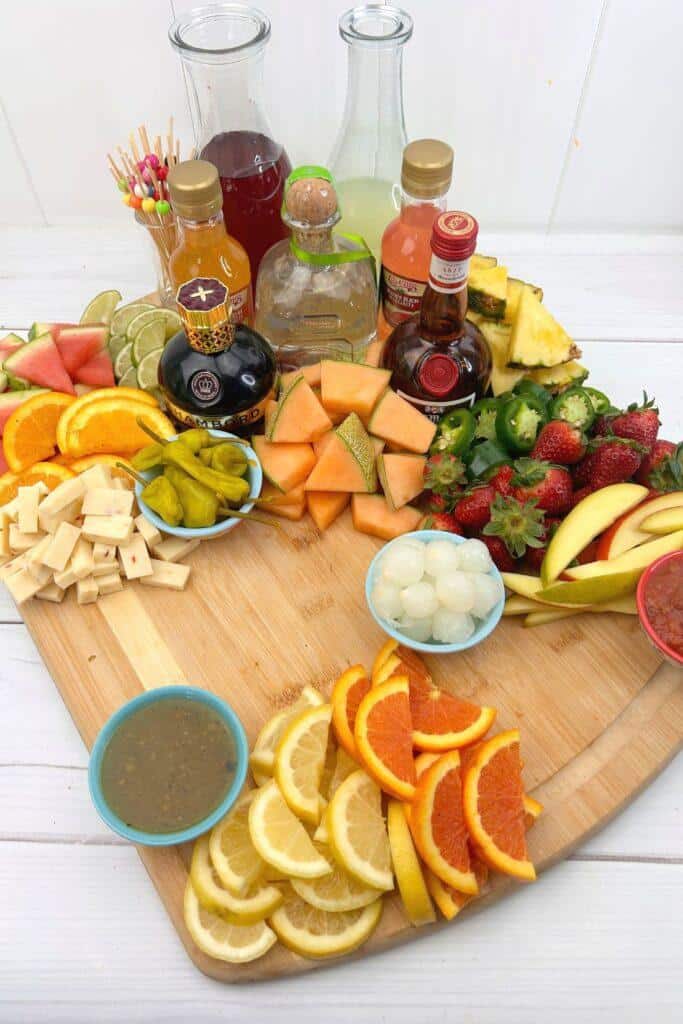 Add your chips to the board. No Margarita Board is complete without a selection of tortilla chips to snack on.
Arrange them in a bowl or basket and place them on the board for easy access.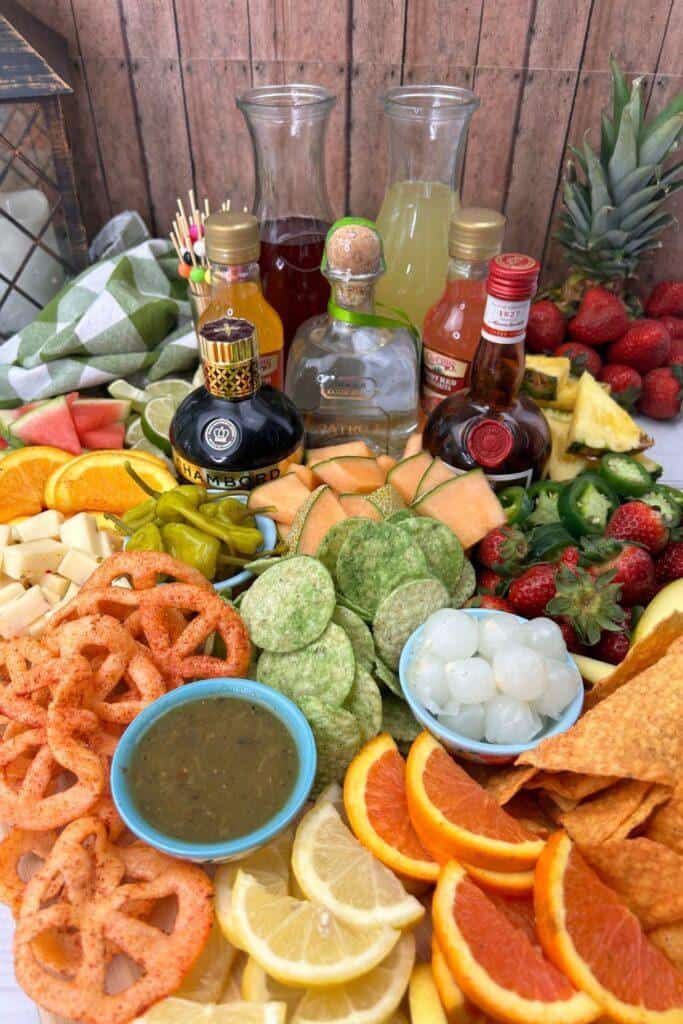 Step 3: Garnish, Serve and Enjoy
Fill the holes with the jalapenos, cheese, and strawberries. Many Margarita Boards feature holes or compartments for holding garnishes and mix-ins. Fill these with sliced jalapenos, shredded cheese, and sliced strawberries for your guests to add to their margaritas.
Off to the side, place glasses and cocktail ice for guests to create their own drinks. Finally, be sure to provide plenty of glasses and cocktail ice off to the side of the Margarita Board. This allows your guests to create their own drinks and experiment with different flavors and combinations.
Serve and enjoy!
This recipe can serve 8-10 people and be prepared within 25 minutes.
What to Serve with Your Margarita Board
Sides
Serve some classic Mexican appetizers like guacamole, quesadillas, or mini tacos to go alongside the Margarita Board. These dishes will enhance the festive vibe of the board and pair well with the margarita flavors.
Also, a refreshing salad can balance the richness of the margaritas and provide a healthy option for guests. Try a salad with fresh greens, diced tomatoes, and a tangy vinaigrette dressing.
Spicy snacks like jalapeno poppers, buffalo wings, or spicy nuts can complement the heat of the margaritas and provide a tasty snack for guests to enjoy.
Main Dish
If you're hosting a backyard BBQ or outdoor party, consider grilling up some meats like chicken, steak, or shrimp to serve alongside the Margarita Board. The grilled meats' smoky flavors will complement the margaritas' tangy and sweet flavors.
Popular Substitutions & Additions
Some many popular substitutions and additions can be made to a Margarita Board to customize it to your liking.
Here are a few examples:
Mezcal: Mezcal is a smoky and complex spirit that can be used as a substitute for tequila in Margaritas. Adding a mezcal-based cocktail to the board can provide a unique and delicious twist on the classic Margarita.
Fruits and Vegetables: While the Margarita Board already includes a variety of fruits like watermelon, mango, cantaloupe, and pineapple, you can add other fruits and vegetables like grapefruit, cucumber, or strawberries for a colorful and refreshing addition.
Different Salsas: The Margarita Board includes salsa, but you can add different salsas like salsa verde or pico de gallo to add more variety and flavor.
Different Types of Chips: Instead of just serving tortilla chips, you can add different chips, like sweet potato or plantain chips, for a unique twist.
Different Types of Cheese: While the Margarita Board includes cheese, you can add different types of cheese, like cotija or queso fresco to add more variety and flavor to the board.
You can create a customized board that suits your taste and preferences by making these popular substitutions and additions to the Margarita Board.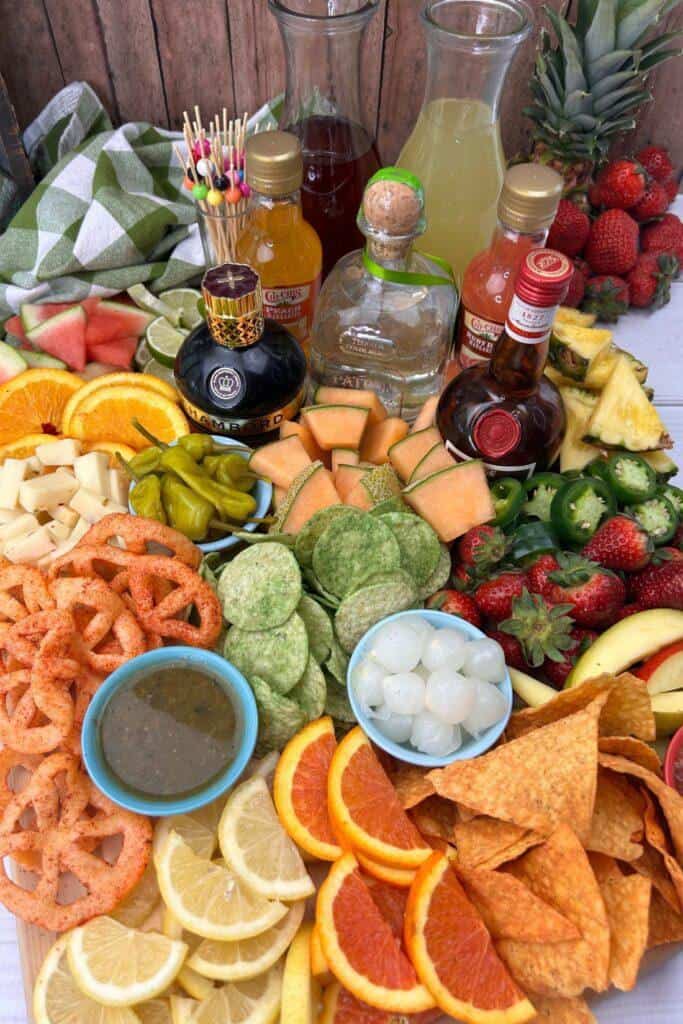 How To Store Fun and Loaded Margarita Board
Best Way To Store Margarita Board Leftover
The best way to store Margarita Board leftovers is to separate the components into airtight containers or resealable bags and store them in the refrigerator.
How Long Will Margarita Board Last In the Fridge?
The Margarita Board leftovers can last in the fridge for 2-3 days, depending on the individual components and how they were stored.
Can I Freeze Margarita Board?
It's not recommended to freeze the components as they may lose their texture and quality when thawed.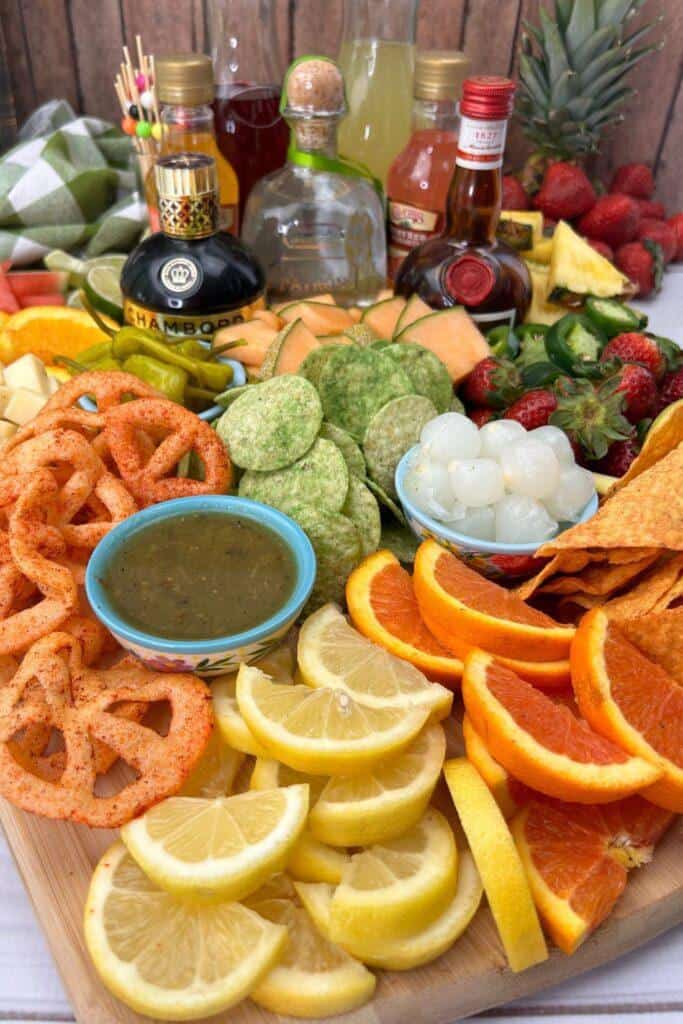 Margarita Board FAQs
Can I serve non-alcoholic drinks on the Margarita Board?
Yes, you can include non-alcoholic drinks like water or soda on the Margarita Board.
Can I substitute tequila with a different type of alcohol for the Margarita Board?
Yes, you can substitute tequila with a different type of alcohol like vodka or rum for the Margarita Board.
Can I add additional snacks to the Margarita Board?
Yes, you can add additional snacks like nuts or popcorn to the Margarita Board.
Can I make a Margarita Board without including spicy ingredients like jalapenos?
Yes, you can make a Margarita Board without including any spicy ingredients.
Can I reuse the same Margarita Board for future parties?
Yes, you can reuse the same Margarita Board for future parties if it's properly cleaned and stored between uses.
Other Board Recipes You'll Love
Are you ready to host the ultimate fiesta? Whether planning a small gathering with friends or a big celebration, the Margarita Board is the perfect centerpiece for your party.
With a variety of colorful fruits, zesty salsas, and flavorful snacks, this board will impress your guests and take your hosting skills to the next level.
So why wait? Gather your favorite tequila, cocktail mixes, and fresh produce, and get ready to create a show-stopping Margarita Board that will have your guests coming back for more.
Whether you're a seasoned host or a beginner, this board is easy to assemble and customize to your liking, making it the perfect addition to any party.
In addition to Margarita Board, you can try these interesting and enjoyable recipes: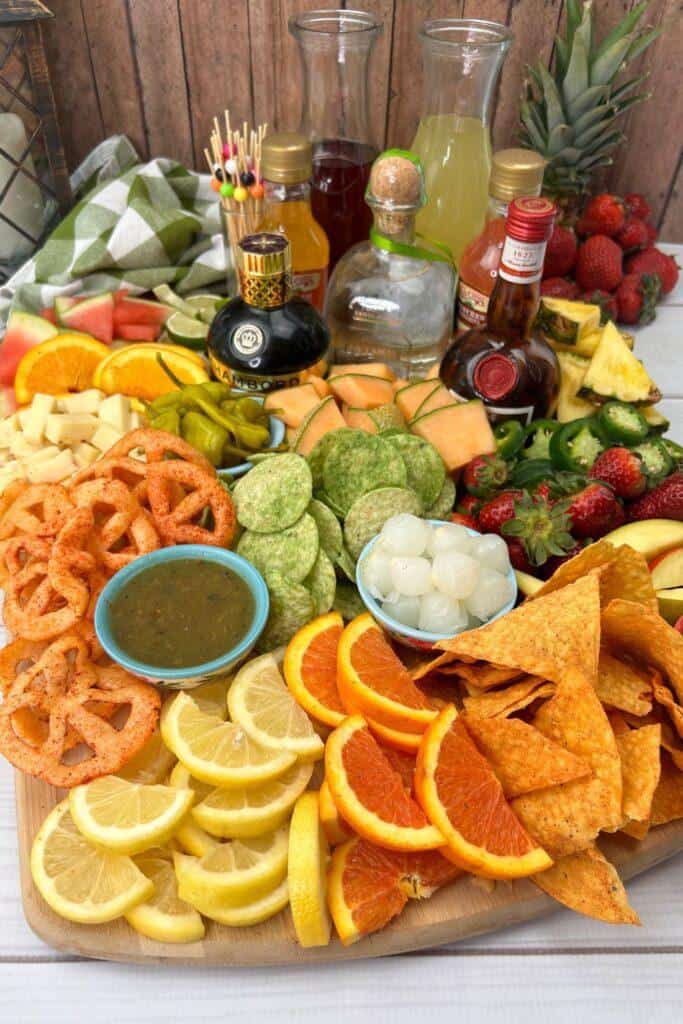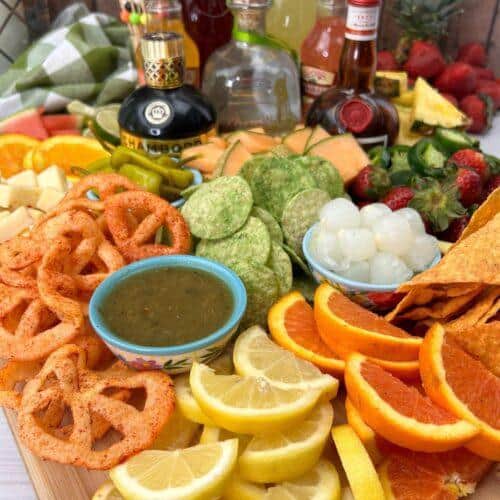 Equipment
Charcuterie Board or Platter

Ramekins or Small Bowls

Board

Glasses

Small Carafes or Pitchers
Ingredients
Tequila

Grand Mariner

Chambord

Margarita Mix

Strawberry Margarita Mix

Peach Margarita Mix

Ruby Red Grapefruit Margarita Mix

Margarita Salt

Limes

Lemons

Fresh Jalapeño

Cara Cara Oranges

Oranges

Watermelon

Pineapple

Cantaloupe

Mango

Strawberries

Pearl Onions

Pickled Peppers

Tomatillo Salsa

Salsa

Pepper Jack Cheese

Variety Of Chips
Looking to kick your Margarita Board up a notch? No worries, we've got your back! It's time to unleash your creativity and tailor your board to match your unique taste and preferences.
WHAT'S NEXT
Do not forget to come back and tell us your thoughts and experience on how your Custom Margarita Board turned out!
If you get a chance to try it, let us know! Leave us a comment below, or share it with a picture on Instagram or Facebook! Don't forget to tag us @sweetandsavorymorsels and use the hashtag #sweetandsavorymorsels so we can see what amazing meals you are cooking!