Easy Valentine's Day Charcuterie Board
Valentine's Day is coming up, and that means it's time to start thinking about what you're going to do to make the day special. Why not try something different this year and create a Valentine's Day charcuterie board?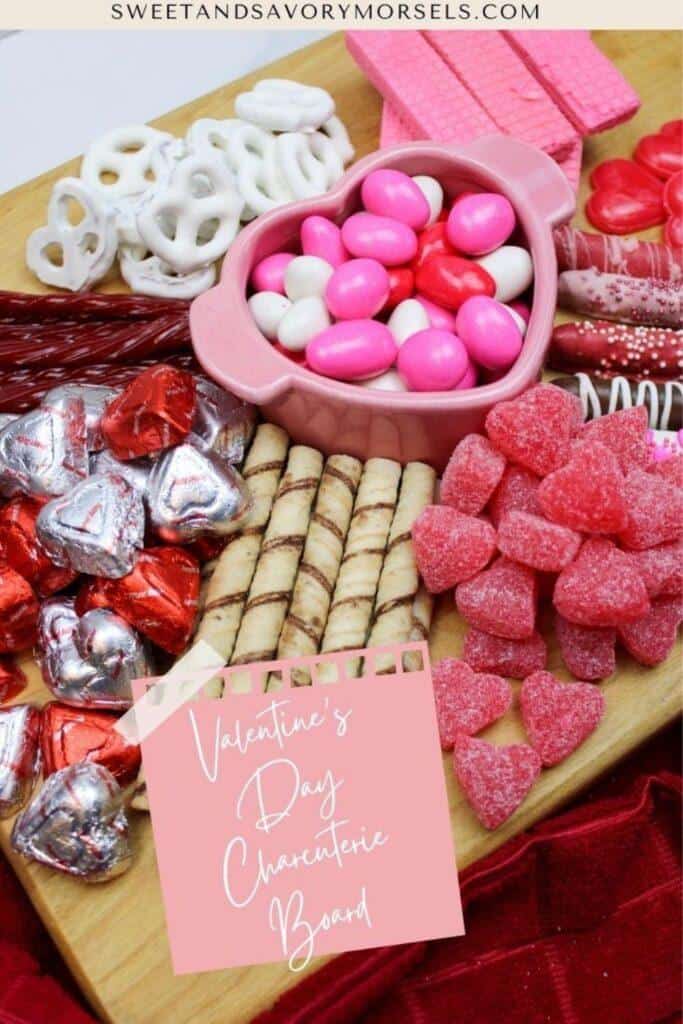 A charcuterie board is a great way to show your loved one how much you care, and it's a lot of fun to put together.
Plus, it gives you a chance to enjoy some delicious food! Keep reading for tips on putting together the perfect Valentine's Day charcuterie board.
A charcuterie board is the new hot item in party platters.
Not only does it make for a more colorful and festive table presentation, but it is also a fun way to serve a variety of snacks.
Full of fun snacks, your guests will get their fill of food while enjoying each other's company.
This is perfect for a romantic evening with friends, the Charcuterie board makes a stunning presentation.
Using beautiful and versatile items, you can create an amazing display that is perfect for any gathering!
This charcuterie board is an excellent way to please your guests and to make any occasion special.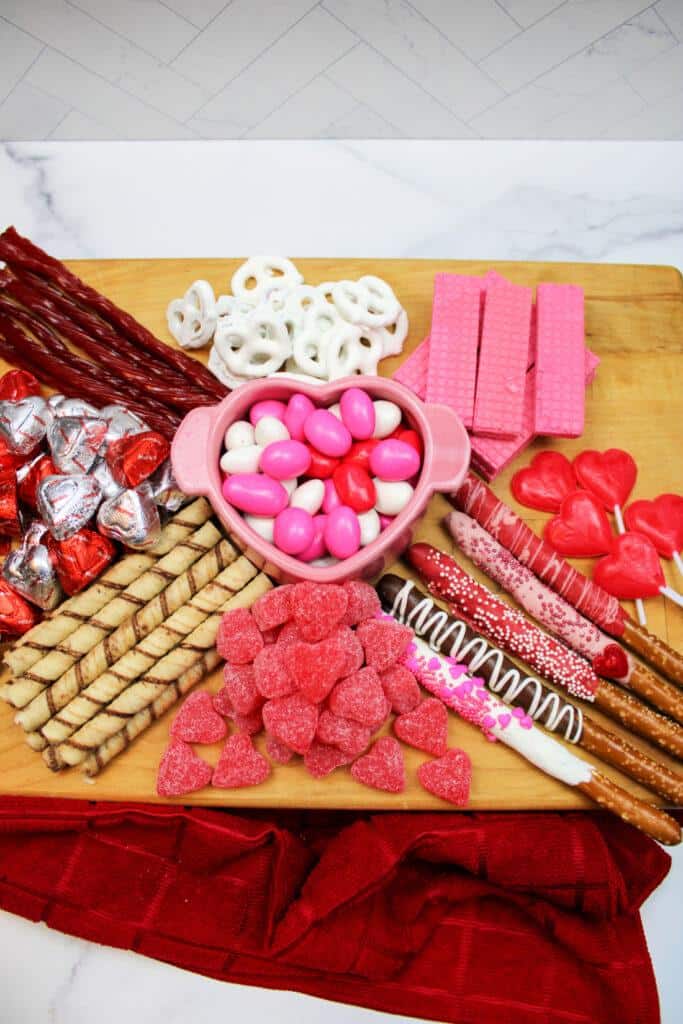 Why You'll Love This Valentine's Charcuterie Board
Celebrate with your sweetheart on Valentine's Day with this wonderful gift. Set the mood and impress your loved one with a beautiful charcuterie board that features all the colors of Valentine's Day including pinks, reds, and whites with strawberries and melted chocolate.
Charcuterie boards are all the rage, and for good reason. Just like a beautifully wrapped gift, they look impressive but are easy to assemble, and your friends will love them just as much once unwrapped. All it takes is a little knowledge of the types of ingredients to choose from and you're on your way.
Craft the perfect charcuterie board with simple and straightforward ingredients, and this is a great way to enjoy the taste of Valentine's Day.
Valentine's Day is not just about roses, chocolates, and teddy bears. It is also an occasion to bring out the best in snacks and delicacies for your loved ones. Flaunt a little twist with the traditional charcuterie board, with this Valentines-themed fun charcuterie spread.
The full ingredient list and directions are in the printable recipe card below.
Disclosure: This blog post contains affiliate links for products we believe you'll love. So if you purchase from one of these links, Sweet and Savory Morsels may make a small commission at no additional cost to you. And remember, we only recommend items that we use and love.
Equipment Needed to Make Valentine's Charcuterie Board
Ingredients For Your Valentine's Charcuterie Board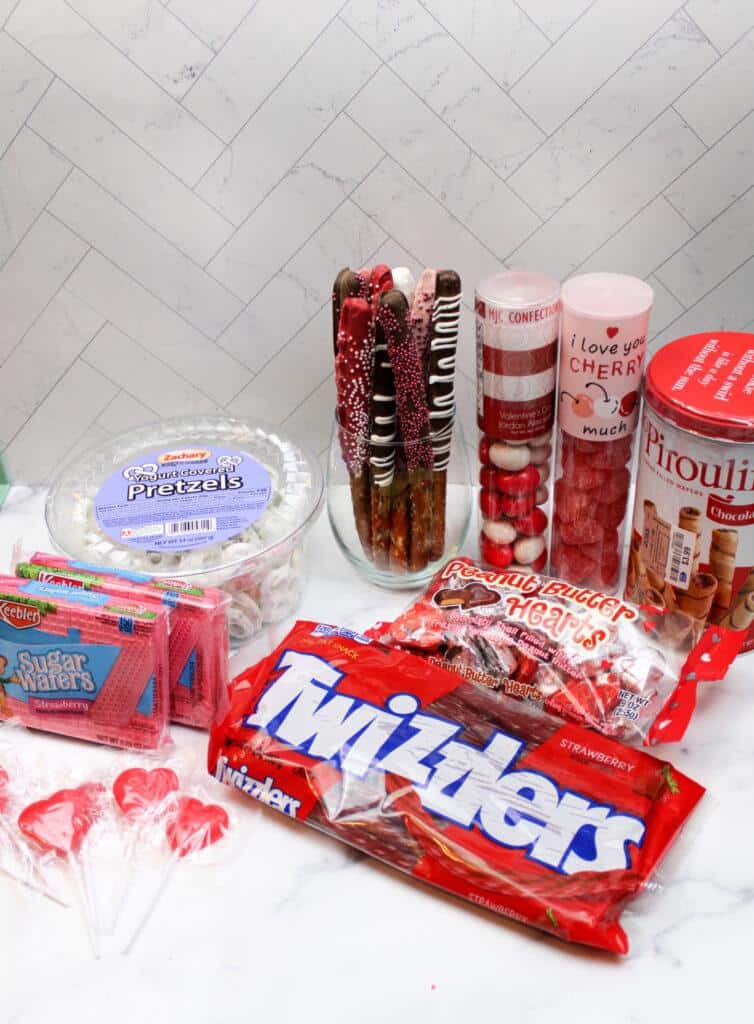 Praline Sticks
Cherry Heart Gummies
Almonds
Yogurt Covered Pretzels
Strawberry Sugar Wafers
Peanut Butter Heart Shaped Candy
Strawberry Twizzlers
Heart Shaped Lollipops
How To Make A Valentine's Day Charcuterie Board
Step 1: Prep the Board
The organization is key when deciding what items to put on your board. Avoid any unnecessary stress by creating a plan and sticking to it. First off, make sure that the board is clean and dry before putting any items on it.
Step 2: Arrange Items, Serve, and Enjoy
Put almonds in heart-shaped bowls. Then, gather the ingredients and arrange them around the larger items. Arrange everything as neatly as possible.
Serve and enjoy!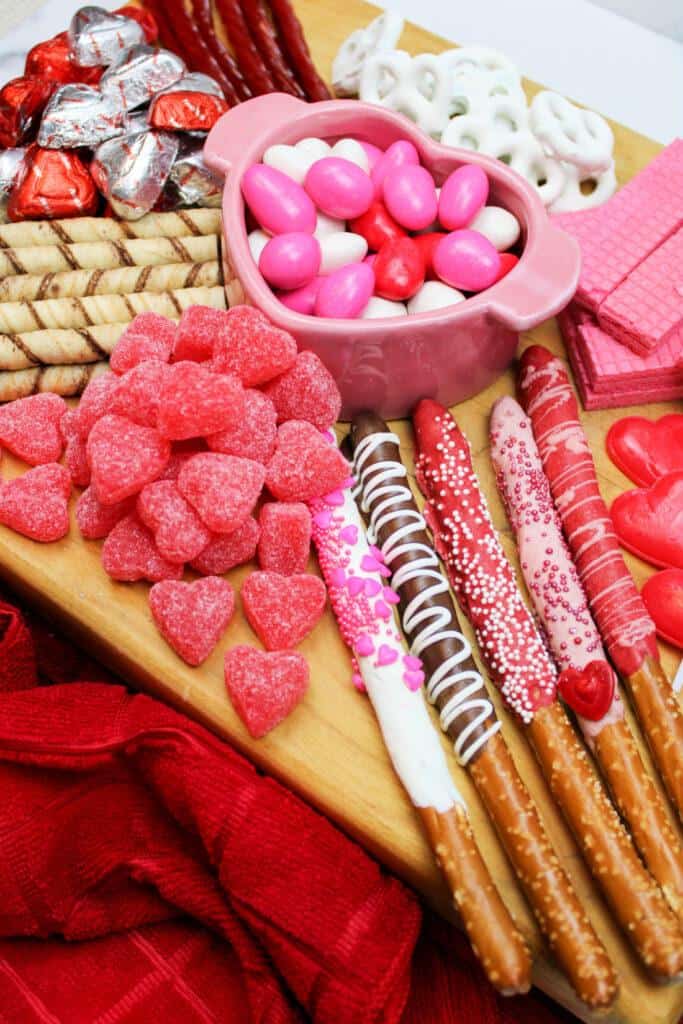 What to Serve with Your Valentine's Charcuterie Board
Appetizer or Dessert
This Valentine's day charcuterie board will be the perfect addition to any table. With a fun assortment of sweet little snacks, your guests will have mouths watering for more. Give the gift of love with this romantic charcuterie board that is sure to win a smile from anyone.
Drinks
For a more classic take, serve this with champagne or sparkling wine. The amount of sugar present on this board can be neutralized with either a hot cup of coffee or hot chocolate.
Popular Substitutions & Additions
Aim for variety, since this board can be really customized depending on your preference. Try adding the following for added extra flair:
fruits and vegetables
nuts
something salty to counterbalance the sweetness
pre-made/homemade desserts (such as cookies)
dipping sauces/spreads
There are no restrictions on what you can put on this board. Perhaps you could stick to a specific theme or color scheme and design your board around that. Remember, if you're making a sweet snack board as a gift, make sure to include the recipient's favorite treats.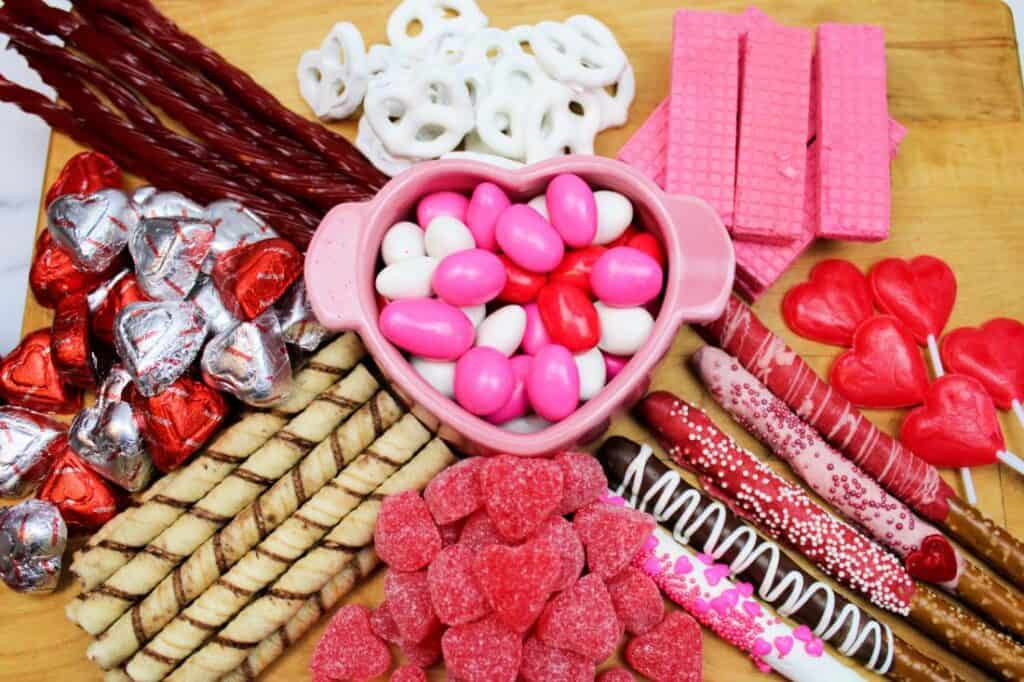 How To Store Valentine's Day Charcuterie Board
Best Way To Store Valentine's Charcuterie Board Leftover
Sure, having a charcuterie board is nice for any occasion, but we don't want to waste any leftovers. Make sure to put leftovers in a resealable plastic bag or containers.
How Long Will Valentine's Charcuterie Board Last In the Fridge?
The charcuterie board can be kept in the refrigerator for a few hours before serving, but make sure to give it 10 to 15 minutes before serving.
Can I Freeze Valentine's Charcuterie Board
Some of the items on a charcuterie board, such as wafers cannot be frozen. This causes the texture and flavor of the food to deteriorate. However, if the board has fruits and vegetables, these items can be frozen.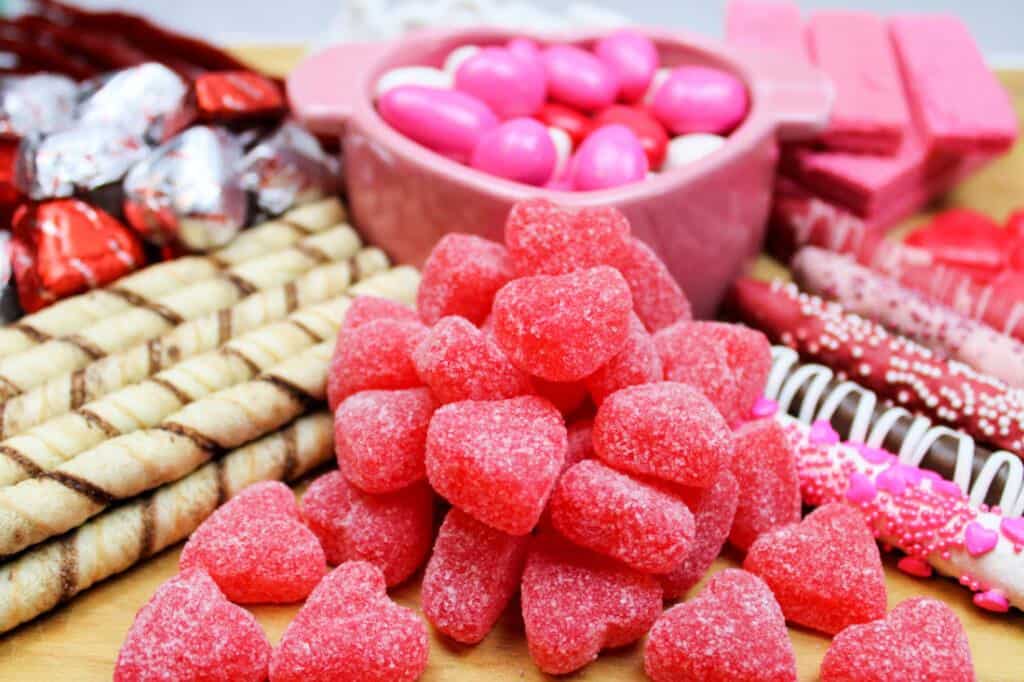 Valentine's Charcuterie Board FAQs
Can I keep the charcuterie board in the refrigerator?
No, while it is not necessary to refrigerate the entire charcuterie board, knowing which items are better cold and which are better at room temperature will improve the overall experience.
Can you serve charcuterie on any board?
Yes, you can use any shape or size of board you want; it doesn't have to be wooden; anything will do, including round lazy Susan-type boards or large rounds with handles.
Can this charcuterie board have a healthier and guilt-free version?
Yes, vegan alternatives, gluten-free, sugar-free, and minimally processed foods can be added to your charcuterie board for a healthier option.
Can I make this board in as little as 10 minutes?
Yes. With the ingredients for this board already available, the key is to organize the items by group. With this, you can arrange the items on the board as easily and swiftly as possible.
Can I make this charcuterie board with store-bought items?
Yes! That's what makes assembling a dessert charcuterie board so simple. However, store-bought items such as cookies and candies can also be used.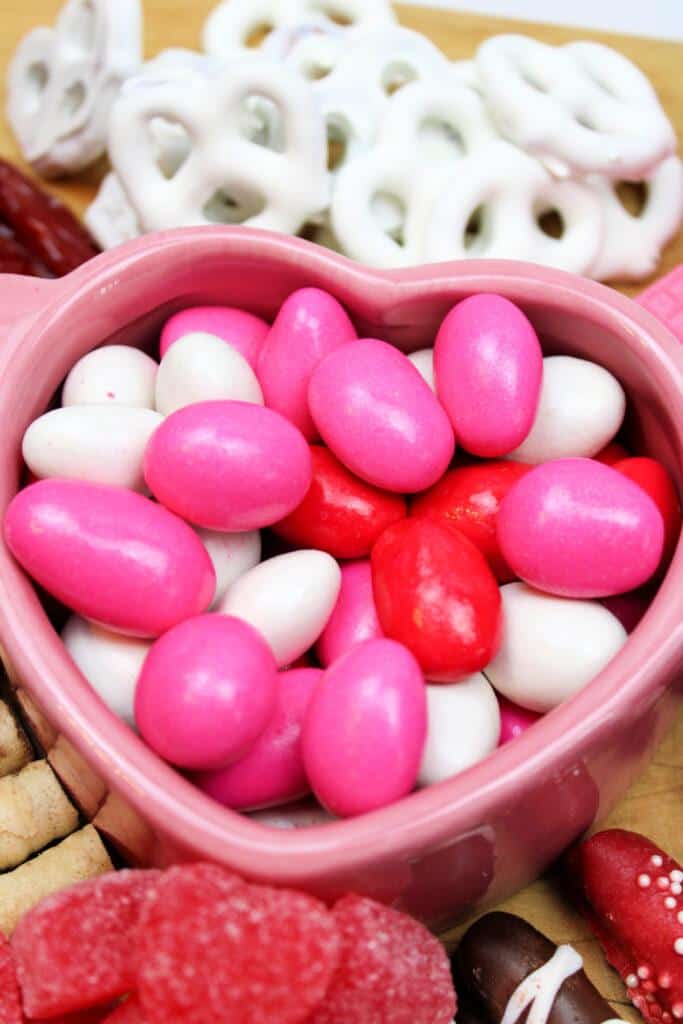 Other Valentine's Charcuterie Board Recipes You'll Love
When it comes to Valentine's Day, words may not be sufficient to say all that you want to say. Show your loved ones how much you care with a Valentine's Charcuterie Board.
This Valentine's Day present your loved one with a special something, a gesture of caring and affection. The Valentine's Charcuterie Board is a wonderful extra touch for dinner parties and for entertaining guests. A perfect centerpiece, it will make any occasion special.
Unique and fun to serve, the Valentine's Day Charcuterie Board is the perfect way to melt hearts. We're thinking that the Valentine's Charcuterie Board deserves a special Valentine's Day promotion.
You can try these fun and fascinating recipes in addition to this charcuterie board: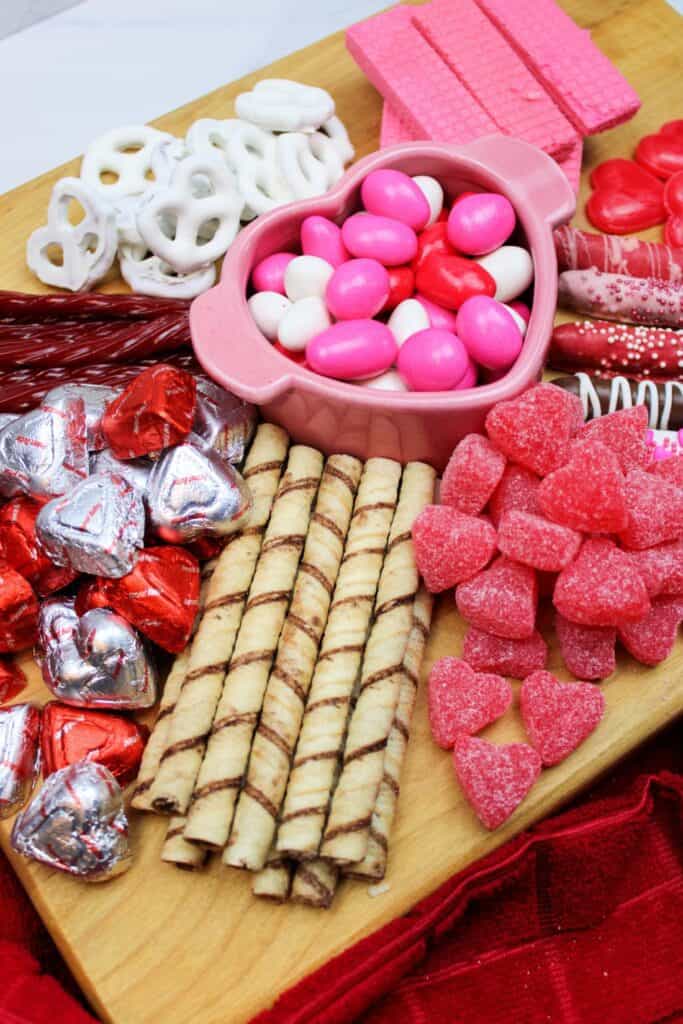 Valentine's Day Charcuterie Board Printable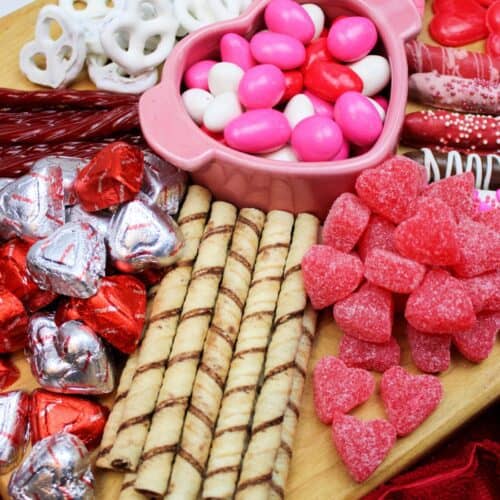 Valentine's Day Charcuterie Board
Valentine's Day is coming up, and that means it's time to start thinking about what you're going to do to make the day special. Why not try something different this year and create a Valentine's Day charcuterie board?
Print
Pin
Ingredients
Praline sticks

Cherry heart gummies

Almonds

Chocolate covered pretzel rods

Yogurt covered pretzels

Strawberry sugar wafers

Peanutbutter heart shaped candy

Strawberry twizzlers

Heart shaped lollipops
Instructions
Choose a board that will work best for what you are cooking. A wooden cutting board is great if it's small enough, but other options such as baking sheets and large platters can also get the job done!

Use this list of foods to fill your platter or board until it's full.
WHAT'S NEXT
Please return and share your thoughts and experiences with me on how your Valentine's Day Charcuterie Board turned out and let me know how you enjoyed it!
If you get a chance to try it, let us know! Leave us a comment below, or share it with a picture on Instagram or Facebook! Don't forget to tag us @sweetandsavorymorsels and use the hashtag #sweetandsavorymorsels so we can see what amazing meals you are cooking!