Pumpkin Oatmeal Cream Pies
Light and fluffy homemade vanilla filling is sandwiched between two soft and chewy pumpkin oatmeal cookies to make a perfectly spiced Pumpkin Oatmeal Cream Pie!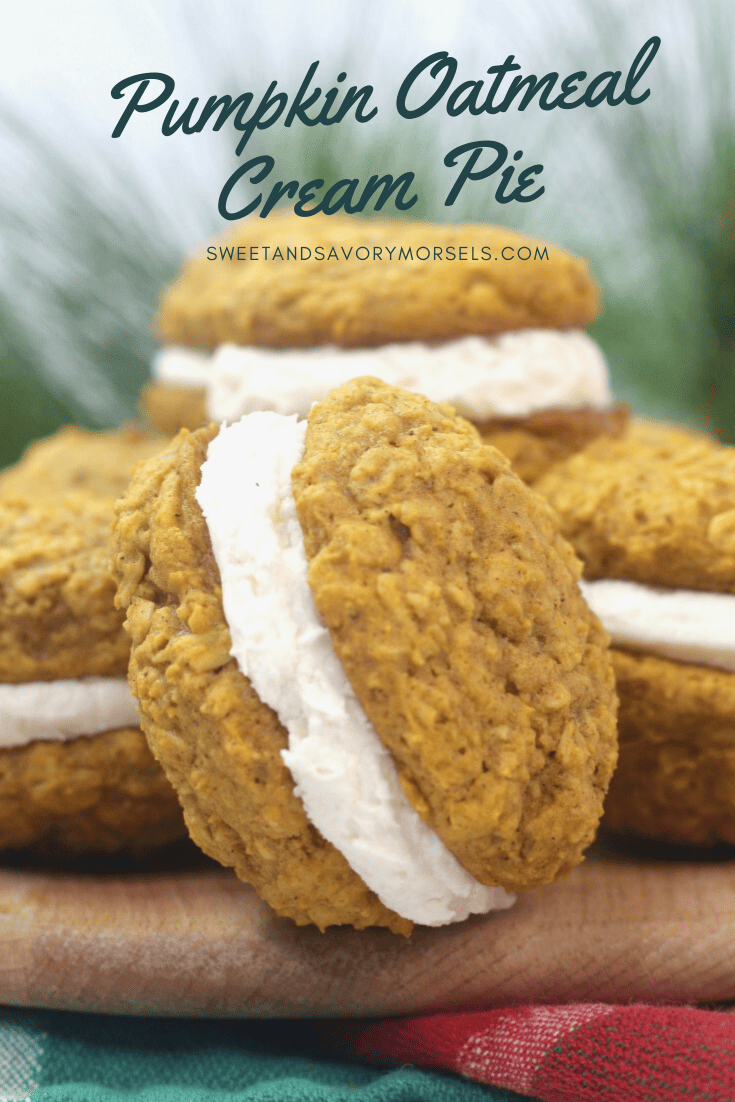 Everyone has their favorite Little Debbie treat they remember from their childhood. For my husband, it's those creme-filled swiss rolls, but mine was always the Oatmeal Creme Pie! That's why this recipe for Pumpkin Oatmeal Cream Pies is one of my favorites!
This simple cream pie recipe tastes almost exactly like the Little Debbie favorite. However, this version adds the delicious flavor combination of oatmeal and cinnamon with pumpkin. The cookies turn out soft, chewy, and oh so good!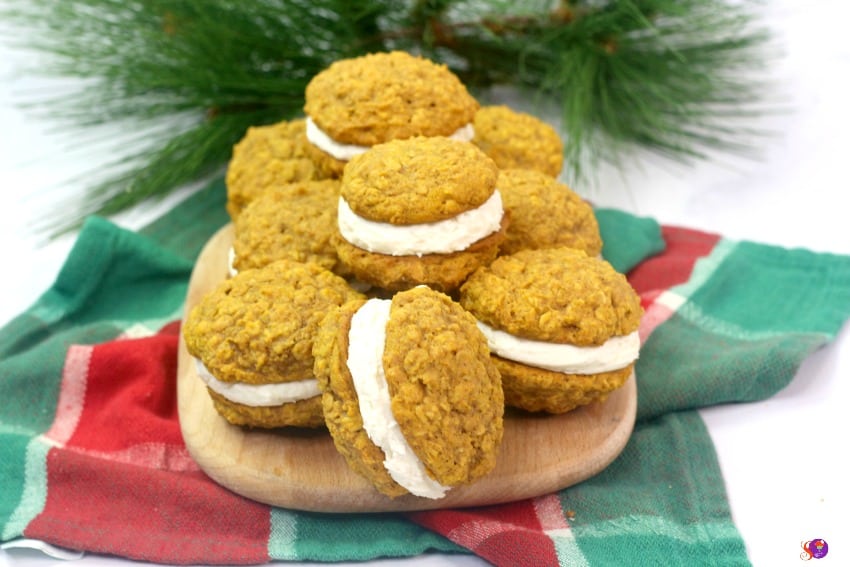 These homemade Pumpkin Oatmeal Cream Pie cookies also have more oatmeal than the store-bought version which makes them moist, chewy and rich in flavor. If you like the taste of oatmeal and cinnamon with pumpkin, then you are going to love these easy made-from-scratch Pumpkin Oatmeal Cream Pies!
Ready to see how to make them?
How To Make Pumpkin Oatmeal Cream Pies
These homemade Pumpkin Oatmeal Cream Pies are super moist and packed with brown sugar and cinnamon goodness. Find the complete ingredients and instructions in the printable recipe at the end of the post.
Kitchen Tools You May Need
Disclosure: This blog post contains affiliate links for products or services we think you'll like. This means if you make a purchase from one of these links, Sweet and Savory Morsels may make a small commission at no additional cost to you. We only recommend items we use and love.
Ingredients Needed for Pumpkin Oatmeal Cream Pies
This quick and easy oatmeal cream pie recipe uses everyday kitchen staples to create a delectable, moist and chewy cookie perfect for making cream pies! All you need is:
Pumpkin Oatmeal Cookie Ingredients
flour
baking powder
baking soda
salt
cinnamon
nutmeg
ginger
allspice
quick-cooking oats
unsalted butter (softened)
brown sugar
sugar
canned pumpkin puree
egg yolk
vanilla
Cream Pie Filling Ingredients
unsalted butter (softened)
powdered sugar
salt
heavy cream
vanilla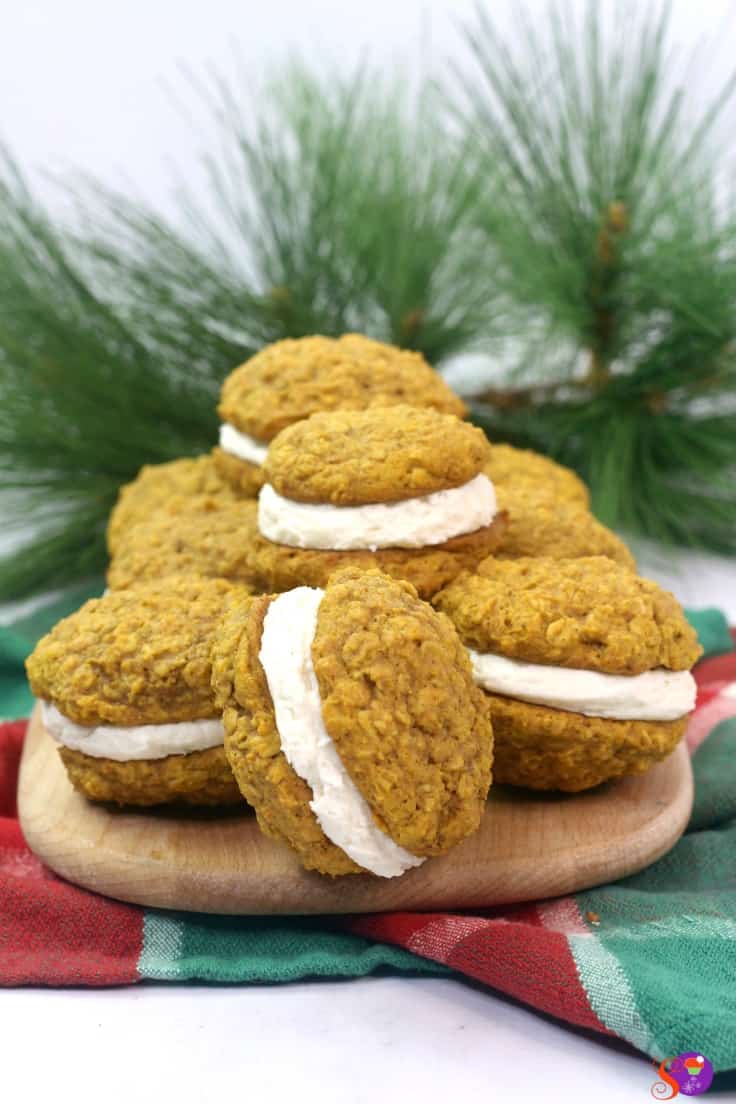 Pumpkin Oatmeal Cream Pie Instructions
Making these Pumpkin Oatmeal Cream Pies is a lot easier than it seems. In fact, it's just like making any other cookie. You start by combining the dry ingredients in one bowl, then combine the wet ingredients in another. Next, slowly add the dry ingredients to the wet ingredients mixing until just combined.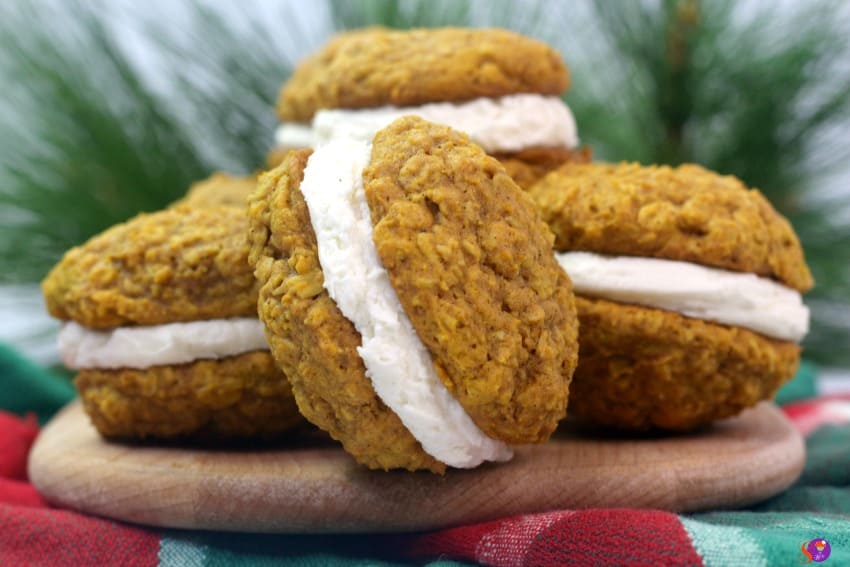 From there, you form the dough into small balls, place them on a cookie sheet, then gently push them flat with your fingers. Toss them in the oven for 9 to 10 minutes., and enjoy the heavenly scent filling the kitchen!
While the cookies are baking, make the filling. After that, all that's left to do is pipe filling on one cookie and then place another on top to form a sandwich. That's it – the whole process takes about 25-30 minutes, yet tastes like you spent hours making them! Serve with a cold glass of milk and enjoy!
Pumpkin Oatmeal Cream Pies Recipe – Printable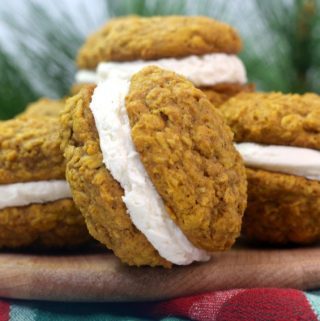 Ingredients
Cookie Ingredients
1 ⅔

cups

flour

1

tsp

baking powder

½

tsp

baking soda

½

tsp

salt

1½

tsp

cinnamon

¼

tsp

nutmeg

¼

tsp

ginger

¼

tsp

allspice

1⅔

cup

quick-cooking oats

¾

cup

unsalted butter

softened

1

cup

brown sugar

½

cup

sugar

⅔

cup

canned pumpkin puree

1

large egg yolk

1

tsp

vanilla
Filling Ingredients
1

cup

unsalted butter

softened

4 ½

cups

powdered sugar

½

tsp

salt

¼

cup

heavy cream

2

tsp

vanilla
Instructions
Cookie Instructions
Preheat oven to 350 degrees. Line cookie sheets with parchment paper.

In a large bowl whisk together the flour, baking powder, baking soda, salt, and spices.

Add in the oats. Stir to mix together.

In another mixing bowl, add in the butter, beating with the electric mixer until it is light and fluffy. Continue beating as you add in both sugars. Beat for 2 minutes. (Or until fluffy)

Add the pumpkin, egg yolk, and vanilla. Mix until well combined.

Slowly add the flour mixture. Mix until just combined.

To form the cookies use a cookie scoop. Scoop cookie dough and roll it into a perfect ball with your hands.

Put the cookie balls (2 inches apart) on the cookie sheet.

Flatten the cookie balls into flat cookies using 2 fingers.

Bake at 350 degrees for 9-10 minutes. (Or until the cookie edges turn golden brown)

When the cookies are done take out of the oven, allowing them to cool for 5 minutes before transferring to a cooling rack.
Filling Instructions
In a medium-sized mixing bowl, beat the butter until light and fluffy (about 3 mins).

Slowly add in powdered sugar and salt to the butter mixing on low speed.

Still mixing on low speed, add the heavy cream and vanilla continuing to beat until all of the ingredients are mixed. Increase the speed on the mixer to medium-high for 2 more minutes. (Or until light and fluffy) .

Put the frosting into a large frosting bag fitted with a large round tip. Slowly squeeze the filling onto one half (or the top cookie) of the cookie. Add the other half of the cookie on top of the bottom half with frosting.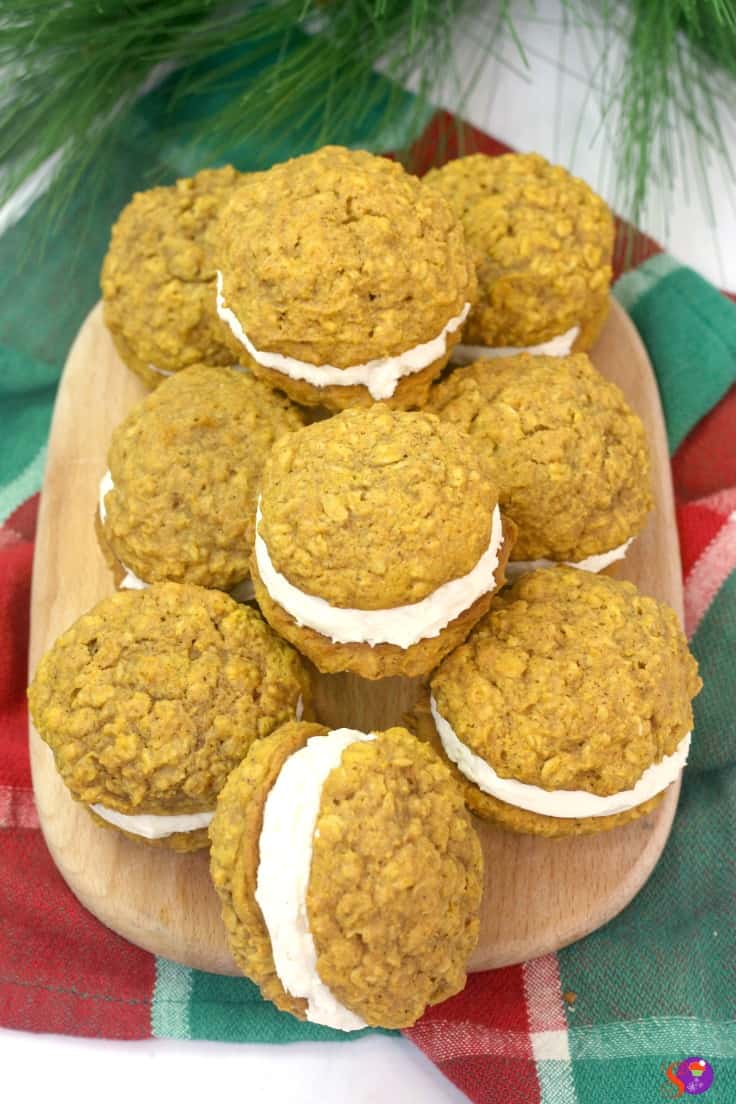 More Delicious Dessert Recipes
I really hope you enjoy this easy homemade Pumpkin Oatmeal Cream Pie recipe! If you're looking for more delicious and easy dessert recipes, give these a try: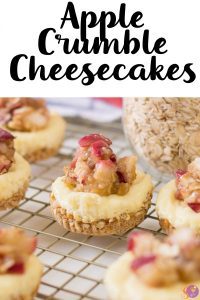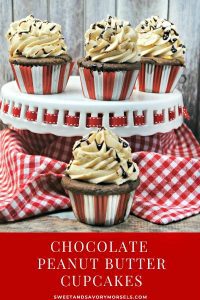 Chocolate Peanut Butter Cupcakes
What's Next?
If you've made any of our recipes we'd love to know! Share them on Instagram or Facebook, and make sure you tag us @sweetandsavorymorsels and use the hashtag #sweetandsavorymorsels so we can see all the things you've tried!